Tools & Materials
Tool Test: Cordless Finish Nailers
These tools free you from the tangle of an air hose and let you go right to work with little setup.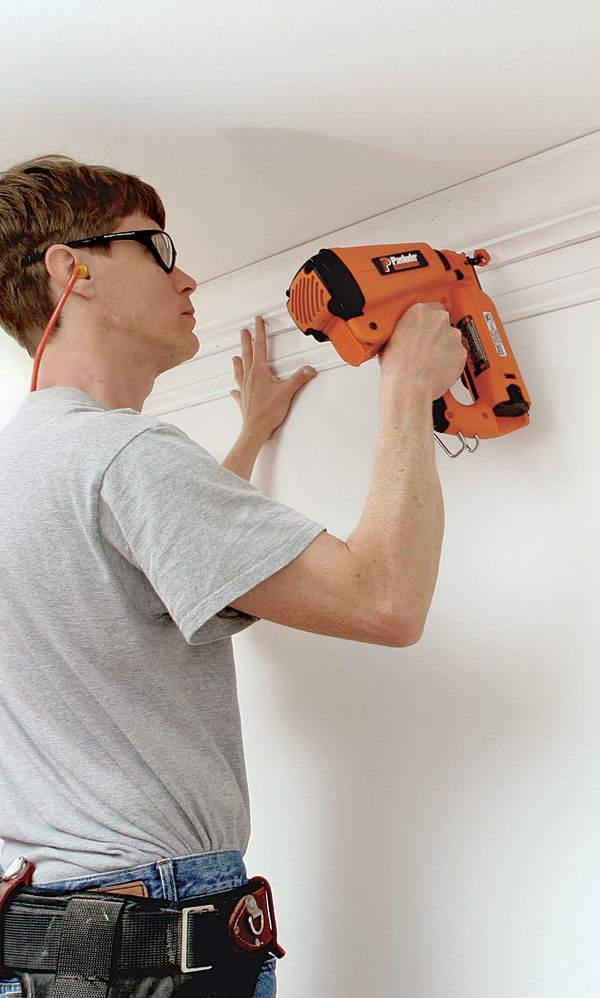 Synopsis: Cordless trim nailers have several advantages over pneumatic nailers: (1) On jobs where you have only a few pieces of trim to nail, it's much easier to pull out a cordless tool than to set up a compressor and roll out an air hose; (2) you don't have to worry about dragging a dirty air hose around furniture and over carpet; and (3) you can perform overhead work without being bothered by the constant tug from the hose. These tools drive nails in one of three ways: internal combustion, mechanical flywheel, or sealed combustion. For this article, associate editor Patrick McCombe tested thirteen 15- and 16-ga. cordless trim nailers to see which had the most power, the best ergonomics, and the greatest nail-driving reliability. After explaining his testing procedures, McCombe profiles each tool, giving information on weight, cost, and type of nail used. The Hitachi NT65GB was his pick for best value, and the Paslode IM250A got the nod for best overall. He tested other nailers from those manufacturers, as well as tools from DeWalt, Bosch, Bostitch, Ridgid, and Senco.
It's tough to beat the speed and reliability of a pneumatic finish nailer, but when you have only a few pieces of trim to nail, dragging out a compressor and rolling out an air hose can take more time than nailing by hand. Even if you have the time, dragging a dirty hose around furniture and over carpet is unlikely to earn you a repeat customer.
It's these situations where cordless finish nailers really shine. They're also ideal for overhead work because you're freed from the constant tug of an air hose.
I recently put thirteen 15- and 16-ga. models to the test to see which had the most power, the best ergonomics, and the greatest nail-driving reliability.
Most people who buy one of these high-cost cordless nailers already have pneumatic nailers and aim to use the cordless version for smaller jobs. So I limited the test to 15- and 16-ga. models, which I believe are more versatile than 18-ga. brad nailers. The tools I tested can handle virtually any finish carpentry task, and the wide range of nail sizes they accept (1 1⁄4 in. to 2 1⁄2 in.) further demonstrates their utility.
For me, the choice came down to two nailers: the Hitachi NT65GB and the Paslode IM250A. The Paslode has a better depth-of-drive control, and its fuel is widely available, making it my top pick. At $220, the Hitachi is an easy choice for best value. If you're dead set on a 15-ga. model, I suggest the Bostitch GFN1564K, as its FN-style nails work best in hard material.
Angled vs. straight: Which magazine is better?
I prefer angled magazines because they provide a better line of sight to the business end of the nailer. This is especially noticeable when you're working overhead or in tight locations. One advantage of straight magazines is that the nails are less expensive. This might not be a consideration for most projects, however, as the difference between 2-in. angled and 2-in. straight nails is only about $2 per 1000. The difference becomes significant with stainless-steel nails, though. Angled versions cost $45 per 1000 nails versus $27 per 1000 for straight.
How we tested
To gauge nailer power, I made a test sandwich of 5/4 white oak, ½-in. drywall, and 2×4 studs — Douglas fir under one half and LSL (laminated strand lumber) under the other half. LSL is an increasingly common stringer and header material, and it's among the hardest materials a finish nailer is likely to encounter. I used a piece of pegboard as a template to mark where to drive the nails. The pegboard ensured that the nails would be evenly spaced and allowed me to judge how easy it is to put a nail in a specific spot. To test visibility and the likelihood of splitting material, I mocked up sections of white-pine crown molding and drove nails along the top and bottom edges. Finally, I milled strips of pine and white oak in thicknesses from 1⁄8 in. to 5⁄16 in., about the thinnest material these nailers can fasten, and used them as a means to assess the sensitivity and adjustment of each nailer's depth of drive. Ideally, the nails would be countersunk without the heads blowing through the stock.
For more photos and details, click the View PDF button below:
View PDF