Taking Oriels to a New Level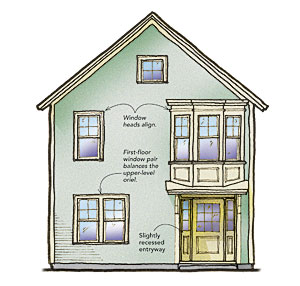 An oriel is not a bird. It's a bay window that doesn't have a foundation. Instead, it cantilevers or hangs from a wall, often with brackets or corbels below. Folks tend to think of an oriel as a first-floor feature, off a kitchen or living room, but an oriel also can  enhance both an exterior elevation and interior space when it is placed on the upper level of a home.
Think of upper-level oriels as another valuable tool in your design toolbox. Use them to provide shelter, to mitigate a flat facade, or to punctuate a roofscape, all while increasing the access to daylight and adding welcome pockets of space to an interior.
Here, I'll explore three types of upper-level oriels and why you might want to incorporate one of them into your next project. Outside and in, they're each a win-win.
Entry-annoucing oriel
An oriel positioned above a front entrance calls attention to the entrance while sheltering it. When the oriel is paired with a slightly recessed entryway, the sheltering effect is even more generous. Often seen over center entrances, an oriel may have a rectangular, bowed, triangular, or angled plan, such as the one illustrated here.
Stair-landing oriel
An oriel off a stair landing provides a more generous transition between levels both inside and out. On the outside, a stair-landing oriel may help to ground a home further, depending on its roof configuration. It may also provide relief from an otherwise flat expanse of exterior wall, acting as a foil to the continuous main exterior wall and regularly placed windows. Outfitted with its own roof—generally shed or flat—a stair-landing oriel also can work well on a short end wall, like a gable end.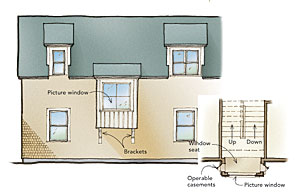 Oriel dormers
An oriel dormer is a hybrid of an oriel and a dormer. Like a dormer, it captures daylight and headroom from within a primary sloping roof. Like an oriel, it reaches out beyond a home's main walls to grab additional daylight and space. Oriel dormers resemble doghouse dormers, which typically have gable roofs and vertical walls, but doghouse dormers are generally fully nested in a primary roof. Instead, oriel dormers project to the primary eave line.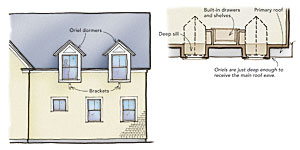 Drawings: Katie Hutchison