Moving construction material on the job site and working with the Laborer's Union.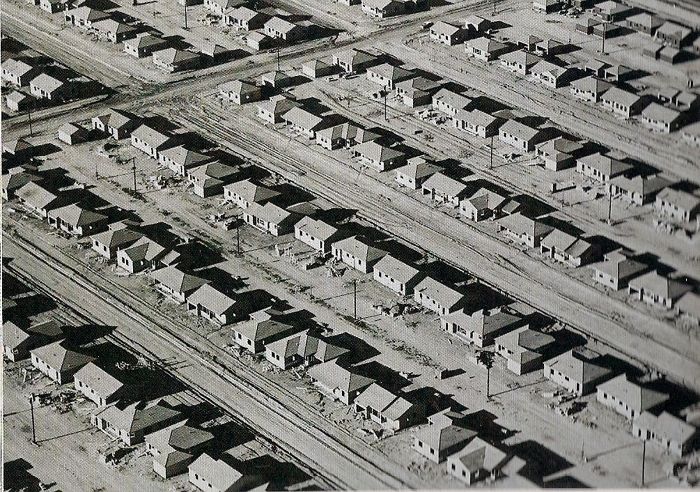 "The captain said to John Henry, I'm gonna bring that steel drill round. I'm gonna bring that steel drill out on the job, I'm gonna whup that steel on down."
–from "John Henry," a traditional American folk song, as taugyht to me byAfrican American carpenters on job sites in Los Angeles, Calif.

We didn't have forklifts and small tower cranes on our building sites in the 1950s, but we moved tons and tons of joists, plates, studs, and sheathing material without them. The amount of building material being shipped into Los Angeles from old growth, straight grain, Douglas Fir forests in the Pacific NW was huge. This blog is part of the story of moving these materials as we went about our jobs of building an endless number of homes mainly for returning vets.

When I arrived in LA in 1950, the house building industry was still controlled by the old-time unions. I say old-time not to put them down, but these folks had lots of rules that didn't fit into production framing. And, like most of us, they were hesitant to change and go with the times. I joined the carpenter's union in the fall of 1950 in Beverly Hills—Local 1492—and was sent out to help frame a house.
The controlling factor in material movement was the Laborer's Union. Not much moved on any job site unless their members did the moving. As a beginning carpenter, I would sometimes spend all day cutting a lift of rough 2x4s to stud length with a hand saw. These studs, along with other materials, were carried by union laborers to union carpenters nailing it all together. I got laid off that job (fired), because I already knew the basics of production framing and didn't fit in with how they built a house.
The laborers I knew were a hard working class. Not only did they move heavy materials, often up 2 or 3 floors, but they dug the ditches, moved 500 pound bathtubs, and all the rest of the "dirty work." To my knowledge, they were not allowed to use any carpentry tool except a hammer to pull nails. This was one union rule that was rapidly coming to an end.
We started contracting in the early 1950s building tract houses and apartment buildings. The first union laborer we hired was Martin Garcia standing around 5 ft. in height. Martin had "waded the river" as a young man looking for work. For years as a migrant worker, he picked grapes under the vines in N. California. This "on the move" work was tough once he started a family and besides he got "tired of dealing with snakes, spiders, and tarantulas under the vines." He finally settled in LA and found work as a laborer.
We had learned early on to have lumber trucks dump our material where we wanted; mainly as close as possible to where we were working. From these piles of materials, Martin spent his entire workday moving joists, plates, sheathing, studs, and joists for carpenters. Let me say that Martin was one of the best laborers I have ever known.

As the company grew a bit, we hired another laborer, Martin's son, Johnny. It wasn't long before we had him nailing sheathing to floor joists, building walls, and doing other "carpenter" work. Johnny too was short. His 18" framing hammer handle almost hit the ground when stuck in a loop in his nail apron. With smart workers around like Johnny, the shift from laborer to carpenter was on.
In the early 1960s as we moved into larger projects, two and three story apartments, lumber movement became more difficult. Laborers would stand by a pile of studs and throw them, one by one, up to the 2nd deck. On a three story structure materials had to be carried up the stairs or passed, like long 1×6 deck sheathing, hand over hand up the side the building. Something had to give.
Our solution at that time was to invent a "lumber loader" that would move studs, joists, and even heavy beams up as far as the roof of a three story building. It was a simple device welded together from tube steel in ten foot sections based on some farm machinery we had used back home in W. Nebr. Two metal booms were attached to a 4 ft. x 6 ft. frame that sat on the ground. A link belt chain ran around the booms with a hook attached about every six feet. This was powered by a 220 volt motor. As the chains moved, laborers would set a load of materials on each hook and remove them when they reached the floor where we were working. It was a huge time saver and, once in place, worked quite well.
And then one day brother Joe rented a fork lift to move some materials around a new job site. That pretty much signaled the end of our lumber loaders and also of the Laborer's Union working with carpenters.
By the early 1970s, we owned four large Champ forklifts with telescoping masts that could lift several thousand pounds up to near thirty feet, if I recall correctly. An entire lift of studs, for example, could be set on a deck near to where we were building walls. We kept Martin on the job sites, but most of the labor work was now done by a carpenter grabbing a bunch of studs and nailing them in a wall. We built a number of structures over subterranean garages. On these buildings, we rented smaller, propane driven forklifts to carry all our materials to the back of the building. We set these smaller lifts on the concrete deck with a Champ forklift.
The best forklift operator I knew that worked with us was Francis Hui from Hawaii. Everyone on every job site had a nickname. Francis, of course, was called Pineapple—-what else? We all steered clear of him when he was on the forklift. He was a bit reckless, but he could put materials wherever you wanted. He was just a little crazier than most of us. Then one day he didn't show for work. We inquired and found out that he was in the LA General Hospital with self-inflicted bullet wounds in his abdomen. We visited him one evening. I recall being thrown out of the hospital because a friend and I were racing each other in wheelchairs up and down the hall. Rules again! I lost track of Pineapple after that.
The overall history of the labor union's struggle against mechanization is a long one that needs to be treated elsewhere. Let me just say that the union lost in the building industry. The rules of the game had changed. Like the carpenter's union, most everyone had to abandon old rules or die. Carpenters were not going to work with short-handled, curved claw, 16 oz. hammer no matter what the rules said. Mechanization changed the rules of the construction industry. Backhoes dug ditches, cranes lifted all kinds of materials, and air guns drove the nails. You either changed or became irrelevant. Laborers became carpenters or retired. That's the hard truth in our world, no?
The biggest change, of course, in how we frame houses came when the Skil 77 circular saw came into our hands. With this saw we were in carpenter's heaven. It, like the forklift and other mechanical tools, radically changed how we worked and how many people it took to build a house. The first house framing job I worked on in 1950 was built using 10 carpenters and 4 laborers. Not many years later, I was framing tract homes with just a partner.
And then the stationary tower crane arrived on the scene. These cranes are fed material by a forklift. The material is then spotted wherever you wish on multi-storied buildings. It is especially useful when you don't have access between buildings or to the back side.
So change goes on often displacing trained workers. Technology is everywhere on a job site these days. For better or worse we workers often get overrun by it all. We either change or become irrelevant.
Maybe you have comments on how all this has made you or your parents change. Thanks.