Design
Clothesline Deck Shelf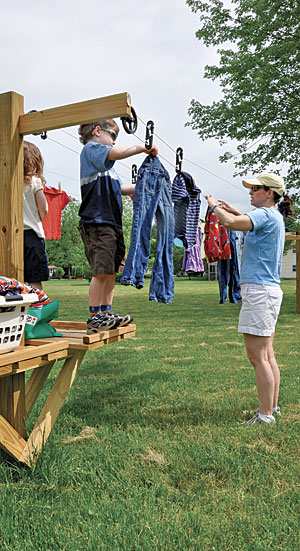 When my wife and I bought our house, one of the first things we decided to add was a clothesline. Our dryer uses about 945 kwh of electricity each year, far more than our refrigerator. Because we endure some of the highest electric rates in the country, having the sun dry our clothes is a savings we can feel good about.
After setting the clothesline's posts, I realized that I didn't want to bend over for every piece of clothing. Moreover, setting the laundry basket on the ground and then bringing it indoors and putting it on the bed or carpet didn't make much sense either.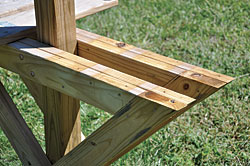 My solution was to build shelves on either side of one 4×4 post using some decking cutoffs and leftover 2x4s. The horizontal supports are doubled 2x4s that are offset the width of the braces and attached with star-drive lag screws. Baluster pieces spaced a washer thickness off the shelves form a rail to keep baskets from falling off. The shelves hold laundry baskets at waist height. It was a happy accident that this is the perfect height for my 3- and 5-year-olds to stand on and hang laundry, and the shelves serve as a rock-solid platform for jumping games.
Photos: Sean Groom