What's the Difference: Degree of opening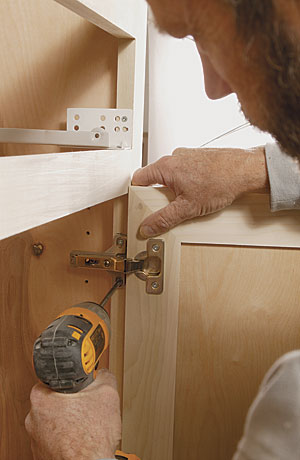 European-style cabinet hinges, also known as concealed hinges, are affordable, simple to install, and unparalleled in adjustability. There is a European hinge for just about every situation: face frame or frameless cabinets; inset-, partial-, or full-overlay doors; and even varieties with built-in soft-close mechanisms. One element of these hinges that's always specified but rarely explained is degree of opening. Think of the degree of opening as the cabinet door's range of travel from a closed position (0°) to a fully open position (anywhere from 90° to 170°), and then choose based on the application.
Low angle: 90° to 100°
These hinges are commonly used to limit the range of travel on a cabinet door. According to Andrew Sisson of CabinetParts.com, "Sometimes you don't need or can't have the doors open past a certain point, so you would choose a 95° or 100° hinge to prevent damage to adjacent walls or cabinets." If you need to limit the angle of only a few hinges, Blum sells restriction clips (about $1 apiece) that attach to their 107° hinge, limiting its travel to 86°. Also, any cabinet door thicker than 3⁄4 in. mounted on standard-angle hinges is likely to bind as it swings open. To address this, some companies offer "thick door" hinges, which typically have 94° or 95° opening angles and provide clearance for doors ranging from 7⁄8 in. up to 11⁄2 in. thick. Cabinetmaker Mike Maines says that these hinges are also popular for budget jobs: "The 95° hinges open just enough to get into the cabinet, at minimum cost."
Standard angle: Between 105° and 120°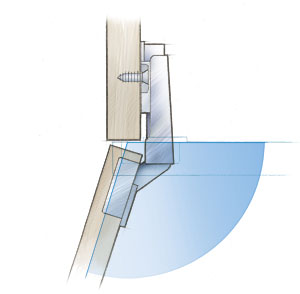 These are the most popular segment of the Europeanstyle hinge market and are commonly found in 105°, 107°, 110°, and 120° options. Some companies sell hinges with only a few degrees of difference, but Sisson notes that many of the options in this range are basically interchangeable: "You aren't likely to notice the difference between a 107° and 110° hinge." According to Maines, "You may find that some 110° hinges can be a little tight, and therefore prone to hyperextension, so 120° is a little better."
Wide angle: Beyond 120°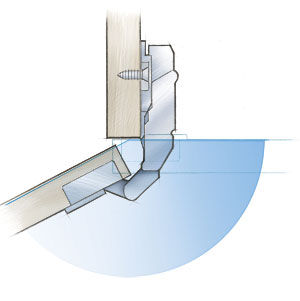 Although wide-angle hinges can be used anywhere that they are free to open fully without obstructions, cabinetmaker Joe Lanza uses them sparingly. "I use 110° hinges for almost everything," Lanza says. "The 170° hinges are bulkier and cost more, so I use them only when the door really needs to open farther to get out of the way." Tom Krawiec of CSHardware.com says they are crucial for rollout shelves in a cabinet, where you need zero protrusion of the door into the cabinet opening. According to Sisson, they are often used for corner cabinets, especially in conjunction with a bifold hinge in the center of two doors.
Photo: Charles Bickford. Drawings: Dan Thornton