Remembering Larry Haun
with his boundless skills, unwavering work ethic, and big heart, this California framing carpenter was–and forever will be–an inspiration to generations of builders around the world.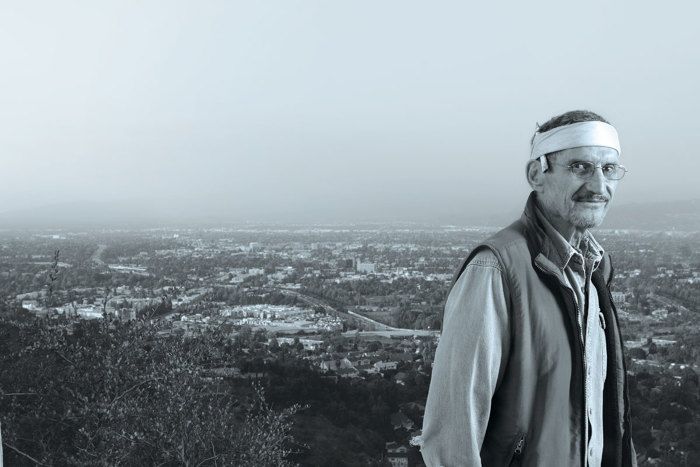 Larry Haun passed away just before noon on Monday, Oct. 24, at the age of 80. A legendary carpenter, longtime Fine Homebuilding contributor and blogger, and prodigious book author, Larry began his building career on the Nebraska prairie at the tender age of 17—and kept building for the next 63 years. In the past few years, he has been "retired," which in Larry's case meant building houses for Habitat for Humanity and wheelchair ramps for people in hospice care; teaching; and generally passing along the wisdom of a compassionate life well lived.
Drawing on the knowledge and skills that he developed during the post-war building boom in Southern California, Larry's first Fine Homebuilding article, "Production-Line Jamb Setting and Door Hanging," appeared in 1989.
Larry made an immediate impact on his first editor, Chuck Miller
"I met Larry for the first time at the Burbank airport in 1989. I'd flown to Southern California to photograph an article that Larry was writing on hanging doors, production style. I'd been on lots of trips like this, but this was the first time anybody ever met me at the airport. Tall and lean, he had on his broad black hat, and he was holding a sign with my name on it. He wanted to make sure I had an extra hand with the photo gear if I needed it, and to guide me to our potentially hard-to-find job site. Going out of his way to help others like this was typical of Larry, as I would see again and again over the next two decades.
"We drove to a tract of partially built houses in Northridge, and set up the lights and tripods in one that was far enough along to be getting its doors hung. The guys working on this house were clearly a hard-working, hard-partying bunch. Loud, irreverent, and profane when Larry wasn't around, they practically turned into choirboys when he came back into the room. It was really something to see. He wasn't pious. He was just calm and respectful, and it rubbed off (at least for a little while) on everybody around him.
"Larry wrote the books on production framing. And he and his brother made the videos to bring the books to life. He's a big deal, but he got that way by paying attention to the little details. He loved to share the tips that he came up with on the job site. I've illustrated lots of them for the 'Tips' column over the years. The latest will be in the next issue."
From production framing to articles and videos to a different kind of book
Larry went on to write more than 20 articles about subjects ranging from basic building skills like nailing and cutting to more advanced framing techniques for roofs, stairs, and walls. He also contributed articles about lessons from the 1994 Los Angeles earthquake and job-site safety. For FHB's 25th-anniversary issue, Larry wrote "One Carpenter's Life," a reflection on his career as a builder. In addition to articles, he contributed to "Q&A," "Tips & Techniques," "Tools & Materials," and "Reviews." In FHB #111, poet, builder, and one-time apprentice Phil Rosenberg celebrated Larry in a poem for "Great Moments in Building History." Larry's tip on one-piece corner boards will appear in our January 2012 issue (#224).
Larry's first book for Taunton, The Very Efficient Carpenter, was published in 1992. Three videos followed, and then a carpentry primer (Homebuilding Basics: Carpentry) in 1999. Larry's long relationship with Habitat for Humanity proved the foundation for Larry's next book, Habitat for Humanity: How to Build a House (published in 2002 and revised in 2008). In all his "how-to" books, Larry was a master at delivering clear, step-by-step information, able to make something as complex as framing a hip roof readily comprehensible to the greenest layperson.
None of us was prepared for Larry's next foray into the world of books. In January 2010, he calmly announced to his editor that he was working on the first chapter of a new book. As Larry modestly put it, "It's a bit scary because it is different from most of what I have written. It has been on my mind for some time, so I am giving it a try." In time, the book would evolve into his most original work, A Carpenter's Life as Told by Houses, which was published this fall.
On the surface, A Carpenter's Life is a book about the history of home building in America from the early days of the 20th century to the present day, told through the conceit of 12 houses that Larry had either lived in or built himself. But to say that this is a book about building is like saying The Adventures of Huckleberry Finn is a story about a river. A Carpenter's Life is part memoir, part spiritual journey, part cultural history, part passionate paean to the earth and all who walk on it. With the houses Larry has built and lived in providing the narrative glue, what comes through is our deep connection to the natural world, a yearning for simplicity, a respect for humanity, and an evocative notion of what we mean by "home."
Larry tells a story in A Carpenter's Life about a buckhorn seed that his mother's mother carried with her on the family's wagon trip west. She didn't plant it on the Plains, but kept it to remember where she had come from. She passed it on to his mother, who in turn gave it to Larry before she died. Larry kept it in a small pouch, and now and then would take it out and hold it "and let old memories flood my heart." Recently, he passed it on to one of his children. To all his friends, his coworkers, his students, and his readers, Larry Haun has left much more.
Links to features by and about Larry Haun:
All Fine Homebuilding articles and videos by Larry Haun: Larry Haun's author page
Larry's autobigraphical Fine Homebuilding article: One Carpenter's Life
Larry's blog: A Carpenter's View
Larry's most recent book and memoir: A Carpenter's Life as Told By Houses
The New York Times published an article about Larry in their Home & Garden section.
"Going out of his way to help others was typical of Larry, as I would see again and again over the next two decades." — Chuck Miller, special-issues editor
"One of my great regrets in life is that I never got to work with Larry on a job site. I'd have been honored to have him chide me for cutting boards one at a time and for having a block plane in my nail bags. Fine Homebuilding has lost a remarkable and prolific contributor, and I have lost a hero." — Kevin Ireton, editor at large
"I want to tell you directly how deeply your gentle firmness and open-minded conviction has impressed itself on this life now so distant from yours." — From "To Larry" by Phil Rosenberg
"Larry was always positive and always optimistic. He was the kind of guy who you met once and he was your friend for life. He always stayed in touch, checking in to see how you were doing. I'll miss Larry. His life is worth celebrating." — Justin Fink, senior editor