Design
Foam Shrinks, and Other Lessons
What we learned from updating a 16-year-old deep-energy retrofit.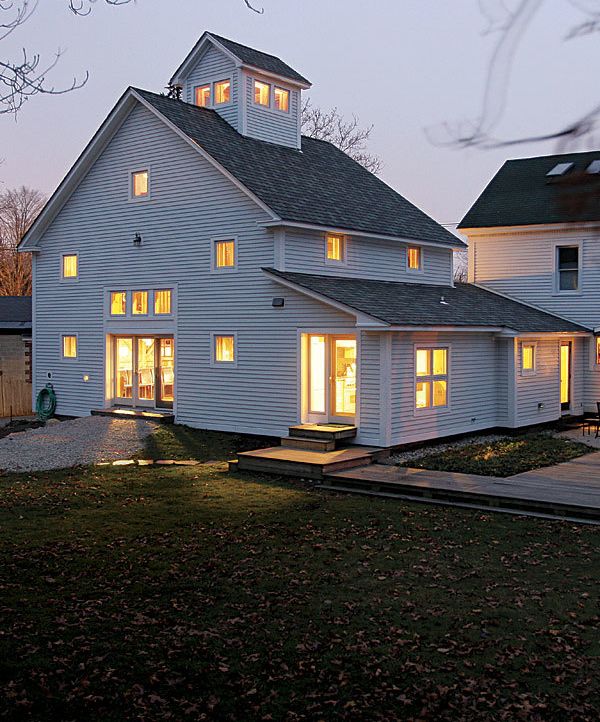 Synopsis: Engineer and building scientist Joseph Lstiburek did a deep-energy retrofit on a barn 16 years ago. A problem that surfaced four months later–a clear melting pattern of frost on the roof–led to years of wondering about other possible problems with the retrofit. Lstiburek eventually decided to take the barn apart, see how its components had performed, and put it back together again using the best commercially available technology. In this article, he shares some of the lessons he learned from this experiment: The paint on properly prepped siding that is installed over a vented rain screen can last for a long time, and furring strips used in the rain screen don't need to be made from pressure-treated wood. It's better to use multiple layers of rigid foam, with seams staggered, than to use one thick layer. Over time, EPS foam shrinks, cantilevered window boxes don't sag, and peel-and-stick membrane wrinkles if the top edge isn't sealed with contractor's tape. Window film is a poor substitute for the right glazing. Carpenter ants will find any locations that have water-management problems. Epoxy-coated screws last as well as stainless steel.
I did a deep-energy retrofit on my barn 16 years ago. Building Science Corp. was young and growing, and we needed a bigger office. The barn would be that office for the next 10 years. In fact, Betsy Pettit wrote about it in "Remodelling for Energy Efficiency" (FHB #194).
The first thing we did was to cut all the overhangs off the barn roof and wrap the outside of the building with plastic. Next, we applied 8-in.-thick expanded polystyrene (EPS) foam on the walls and 10 in. of EPS on the roof. On top of the roof, we installed a layer of plywood as a nailing base for the shingles. The plywood cantilevered past the edge of the barn's roof to form the new overhang.
Our first lesson came about four months after the retrofit was complete: When the first frost hit the roof, I discovered an obvious melting pattern. At the seams between the foam panels, warm air was escaping and melting the frost. Rather than installing one thick layer of foam, I should have installed multiple layers, offsetting the joints and staggering the seams. I decided to fix that when I replaced the shingles.
I was curious about a few other things:
1. We had carpenter ants, which indicated a water problem. I couldn't figure out where they came from exactly, but I knew that I wanted to hunt them down and find out what was going on.
2. The air-leakage test revealed that the barn wasn't as tight as I thought it should be. I wanted 1.5 air changes per hour (ACH) at 50 pascals, but what I got was 3 ACH. We haven't retested with a blower door yet, but testing on similar buildings with this same retrofit system have netted excellent results: 0.1 ACH at 50 pascals.
3. I wanted to know whether I had any other bugs living in the furring-strip space between the siding and the foam sheathing.
4. I wanted to know how my water management actually worked. You can't really tell with computer simulations.
Clearly, there were more issues with this building than just the shingles and the foam, and they have been nagging at me for more than a decade. I decided to look at the project like an experiment take the barn apart, see how the components performed, and then put it back together again using the best off the-shelf technology available now.
Beginning at the outside, I'll take you through what we learned.
For photos and to discover what was learned about this retrofit, click the View PDF button below. 
View PDF