Patrick's Barn: It's Not Just a Barn, It's a Hands-on Lifestyle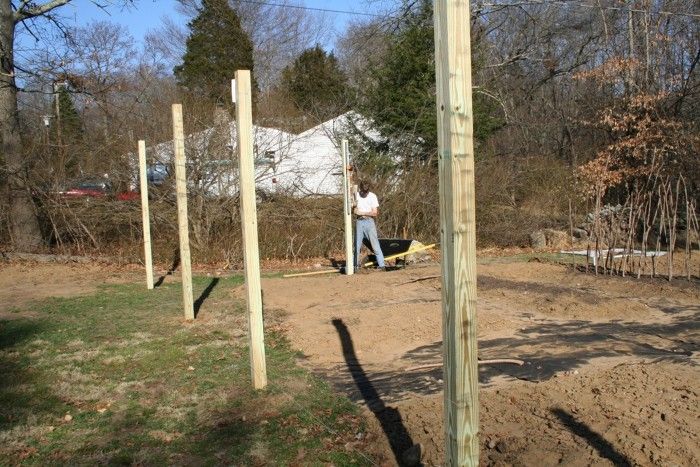 As you may remember, we're building a garden while we work on the barn. It's been mentioned in my blog here and here. Actually, it would be more accurate to say that my wife Carol is building a garden. She's got quite a green thumb and isn't afraid to move mountains of soil and compost. Her willingness to work tirelessly is evidenced by the garden's size of 2300 sq. ft. She used the soil we scraped from the barn site amended with compost for the raised beds.
We now have seedlings under grow lights in the basement, so it's clearly time to get up deer fencing. We have a lot of deer in Connecticut. A herd of them congregate in our yard every night as they're grazing the neighborhood. I'm sure it wouldn't take long for them to find the tasty veggie shoots and gobble them up. As Carol said, "A row of seedlings wouldn't even amount to an appetizer for a hungry deer."
We started our current fence project with an internet search in which we found high-quality plastic deer fencing for about $1.40 per ft. We're attaching the fence to 16 pressure-treated 4x4s. The fence is 7-1/2-ft. tall, so we bought 10-ft. posts that I'm putting right in our sandy soil. I considered setting the gate and corner posts in concrete, but this seemed like overkill once I backfilled one with dirt as a trial. I was able to lay out and install 11 of them over a full day. My goal for this weekend is to set the 5 remaining posts in the ground and hang the fencing.
Although progress on the barn has been slow for the past three weeks due to the garden preparations and a nasty flu that affected the whole family, I've enjoyed the break. Like I've said, it's easy to let a large home project become all-consuming, so it's nice to work on something else for a little while. But once the garden is underway, I'll be back to working on the barn.
You can read more about my barn here.
I started setting the corner posts by lining up a pair (by eyeball) to the house. I located the third corner with a right triangle that I calculated with a Construction Master calculator. I pulled diagonals between the three established posts to locate the final corner.  
By clamping a pair of levels to the post, I was able to plumb the post while I backfilled. After nearly poking out my eye with one of the quick-adjusting clamps, I learned to locate them above my head.
Here you can see my arsenal of digging tools. The axe is for cutting roots. After establishing the corners, I stretched strings between the corner posts to locate the line posts between them. I want all the posts to be in nice straight lines, at least until the PT lumber dries and the ground moves with frost.
Our little boy helped with digging, and he surprised us with how much he accomplished. That's his own shovel, purchased from Ace Hardware. Despite its size, it's made for real work, unlike most kid-sized tools.