Tools & Materials
Foam Forms for Concrete Caps
Rigid-foam wall-cap forms from Stegmeier
Manufactured by Stegmeier
800-382-5430; www.stegmeier.com
Cost: $130 to $150 for a box of 10 8-ft.-long pieces; $140 for a box of 10 spring-steel clamps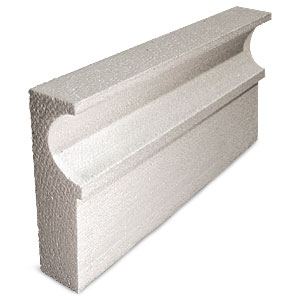 Stegmeier makes innovative products for the installation of decorative concrete. Its rigid-foam wall-cap forms, available in five different profiles, add a finished look to the top of concrete-block, brick, or glass-block walls. They also can be used to form the tops of planters and even chimney caps.
A rabbet in the bottom edge of the forms registers them tight against the wall; then spring-steel clamps are inserted over the top to hold the forms in place during the concrete pour. According to Stegmeier, masonry screws also can be used to hold the forms in place. If the forms are removed the same day as the pour, they can be reused three or more times.
Forms cost from $130 to $250 for a box of 10 8-ft.-long pieces. A box of 10 spring-steel clamps costs about $140. Visit the company's website (www.stegmeier.com) to create an account that allows you to download CAD files of the wall-cap profiles.
 
Photos: courtesy of Stegmeier