How-To
How to Frame Garden-Shed Walls with Half-Lapped 4X4s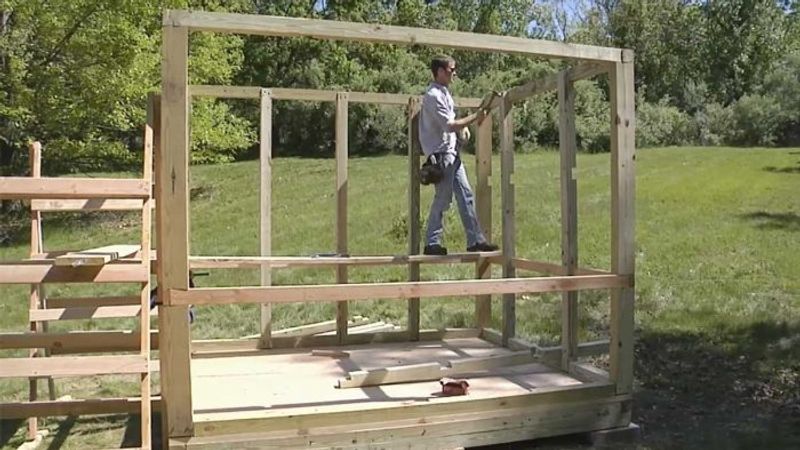 For the walls of this shed I wanted to continue the same timberframe look without the complicated joinery. So, just like with the floor frame, I relied on half lap joints. Unlike a traditional stud wall that would be built on the floor and tipped into place, for this project I'm going to build the walls in place, one piece at a time.
The wall assembly consists of 4×4 bottoms plates, 4×6 corner posts, and 4×4 wall posts. I've ganged as many common parts together as I can, made my cuts, cleared the notches, and created all the members I'll need for assembly.
The bottom plates come first. Lay them out flush to the outside face of the floor frame, which I already know is square, and fasten them straight down into the floor.
With the sill plates in place, the 4×6 corner posts come next. Next come the 2×4 girts, which will act as the window sills and as blocking for the sill nosing that will be installed later. I'm putting them in now because they'll help to keep my corners plumb, and because I can use them as scaffold supports for reaching the top plates.
When installing the top plates, do the shorter gable sides first. Fasten the plate down to the corner posts, again using the structural screws. Then drop in the longer eave pieces between, resting them on the remaining lip of the 4×6 corner posts and fasten them through from the ends to lock the four sides together. Then, fill in with the rest of the 4×4 posts, fastening each into the top and bottom plates with a pair of screws.
As you can see, the half laps on these posts are all about 1/4-in. short. That's not a mistake; I'm actually leaving the gap so that as this wet lumber dries out and shrinks, the half lap of my posts will have room to drop down. If I had cut this lap to full length, the plates would shrink and I'd be left with posts that aren't bearing on the plate like they're supposed to.
OK, Great… with the wall framing in place, now we can turn our attention to the roof framing.