Design
Traditional Design, Modern Construction
A new farmhouse features historically inspired details executed with low-maintenance materials.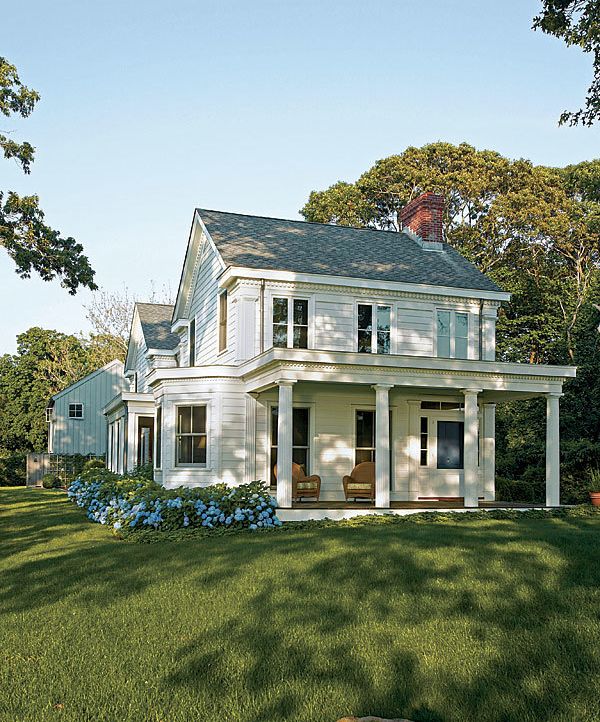 Synopsis: On Shelter Island at the eastern end of Long Island, a collection of four Greek-revival homes inspired architect Ian McDonald when he was hired to design a new home. The new farmhouse features historically inspired details that are made with modern, durable materials such as PVC. Also in keeping with its contemporary nature, the house has an open floor plan. To make the house seem as if it was built longer ago than it was, it was designed in a long, narrow style to make it look as if it had a lengthy history.
In the 1840s, Gabriel Crook, a local carpenter, builder, and architect, designed and built four Greek-revival houses on Shelter Island, N.Y. In the tradition of the time, all the materials used in their construction were milled or manufactured locally and transported by boat from Long Island and New England. Crook left the island in 1849 to seek fortune in California's gold rush, but his houses remain and continue to inspire those who live and visit here. As a resident of Shelter Island, I once had the great opportunity to study one of the four Crook houses in detail. I planned one day to build myself a house that would be inspired by his work.
When new clients approached me to design their new house, they were under contract to purchase 2.6 acres that backed up against Sylvester Manor, the original island homestead dating to 1652. The property also edged Dering Harbor, a village with approximately 30 formal, white painted colonial houses. Like many who decide to build on this island, they were looking for a traditional design that would fit the regional architecture. However, instead of a historical reproduction, they wanted the house to have a contemporary quality and be easy to manage and maintain. The house also had to be large enough in size to accommodate visits from their extended family.
In one of our early meetings, I showed the clients a sketch of the Greek-revival farmhouse I was planning to build for myself, based on my study of Crook's house. They were instantly drawn to it. So began the challenge of constructing a new house that looked old to complement a modern way of living and a rich island history.
My interpretation of a pattern-book style
As the Greek-revival style made its way from cities to the countryside through the use of pattern books, the details were often simplified or changed as the result of builder interpretation and the availability of local building materials. Just as the old carpenters interpreted details from pattern books, I chose to interpret the details of the old house that I had studied. Looking at a house that is 160 years old, you can't always tell whether all the details are original to the structure or if they were replaced or altered in the course of its history.
During my study of the Crook original, I took careful measurements of the various elements, down to the size of the different dentils. I made adjustments, but the old house served as my pattern throughout the process. By working through its details, I believe that the original spirit of the old house has been realized in this new structure.
House shape suggests a long history
After developing a list of requirements with my clients, I typically go through a few rounds of hand-drawn sketches that try to accommodate and organize all their requests. Instead of placing all these spaces or functions in a simple one- or two-layer box, I try to break them apart. This way, the house is allowed to develop additions or wings. The end result is often a house that appears to have been added on to over many years: a new house with historic charm.
For more photos, drawings, and details, click the View PDF button below:
View PDF