What's the Difference: Fasteners for Pressure-Treated Lumber
For decks or other outdoor projects made from pressure-treated lumber, code requires the use of fasteners that offer good corrosion resistance.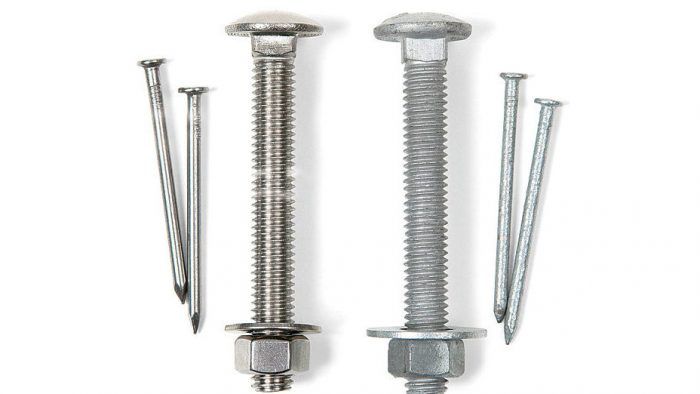 The high level of copper in lumber treated with ACQ or CA speeds up the corrosion of most fasteners, so for decks or other outdoor projects made from pressure-treated lumber, code requires the use of fasteners that offer good corrosion resistance. Many manufacturers have developed proprietary fastener coatings that they claim offer sufficient protection against corrosion when used with pressure-treated lumber. In addition, most codes permit the use of silicon-bronze or copper fasteners in these situations. However, stainless-steel and hot-dipped-galvanized (HDG) fasteners are typically recommended and are the most common. Before using either, it's essential to understand the differences between them.
Stainless Steel
Stainless steel has a higher chromium content than other types of steel. In contact with oxygen, chromium forms an invisible protective layer that prevents steel from corroding. If the surface is damaged, the layer will self-heal as long as oxygen remains present. Fasteners made of stainless steel offer the highest level of protection against corrosion; however, they are a good bit more expensive than HDG fasteners. In applications with sheet-metal hardware such as joist connectors, stainless steel's cost disadvantage multiplies because the hardware must be secured with fasteners of the same type. You can't use stainless-steel nails with an HDG connector, for example; the stainless steel will speed up the corrosion of the connector's zinc coating.
Stainless-steel fasteners are available in different levels of corrosion resistance. Grades 304 and 305 offer sufficient protection in most regions, but grade 316 is best for coastal areas. Grade 410 is designed more for hardness than for resistance to corrosion. Although it's great for masonry screws, fasteners made from it aren't sufficiently corrosion resistant and so shouldn't be used with pressure-treated lumber.
Cost: $22 for 1 lb. of 3-in. 10d nails
Hot-dipped galvanized
Galvanization adds a layer of zinc to the exterior of steel to enhance its corrosion resistance. Although several methods of galvanization exist, hot-dipping creates a metallurgical bond between the zinc and the steel substrate and so offers the best protection against corrosion. Fasteners are lowered into a vat of molten zinc at a temperature of about 850°F. The American Galvanizers Association claims that a damaged area of the coating up to ¼ in. will continue to receive protection from the surrounding zinc. Because the zinc coating is sacrificial, however, it eventually will corrode. Still, the cost of HDG fasteners (and any connectors used with them) is so much lower than that of stainless-steel fasteners that they are the common choice for noncoastal areas. Be sure that the HDG nails and connectors you use meet the ASTM A153 standard, which ensures that the zinc coating is of a sufficient quality and thickness.
The distinctive rough appearance of HDG nails is not found on HDG bolts and screws, which are spun in a centrifuge to clear the threads of excess zinc. Still, there's enough coating remaining on the threads that nuts have to be tapped oversize to fit the bolts. Non-galvanized nuts won't fit, but they shouldn't be used anyway. HDG bolts and screws are subject to an additional ASTM standard, F2329, which regulates HDG threaded fasteners.
Cost: $15 for 5 lb. of 3-in. 10d nails
Photos: Rodney Diaz
For more information: