Design
Dining Set in a Box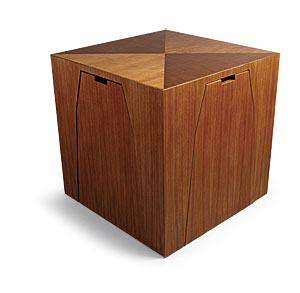 I designed the Cube as a component of what we call our Hidden Kitchen, a collection of furniture pieces that encapsulate the functional elements of a kitchen inside simple forms and surfaces. The pieces, which transform from workspace to gathering or dining space by flipping, sliding, or folding parts, are designed to make small spaces multifunctional.
The Cube is 36-in. sq. and is a comfortable height for meal preparation or serving. Seating for four is provided by the stools that hide below and fit together like parts of a three-dimensional puzzle. In designing the series, I wanted simple forms with rich materials. The version pictured is made from quartersawn American black walnut and anodized aluminum, but it can be made in a variety of materials to fit most any style of home.
I do most of my designing in my head during my nightly commute home. I think my design for the Cube may have been inspired by a place where I passed many hours as a child: under a card table covered by a blanket.
Break out of the box. When needed, the Cube's four chairs pull out of the matching, 36-in.-sq. table to create a dining set. When the chairs are stowed away, the table acts as a prep surface.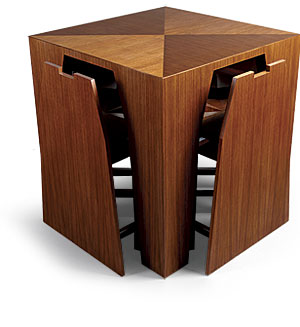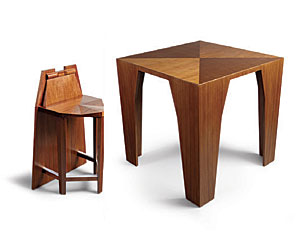 Photos: courtesy of KR&H Cabinetmakers/Joel Benjamin.