Tools & Materials
Radiant Cooktops: Sleek and Easy to Clean

Electric elements used to mean unattractive, inexpensive, hard-to-clean coil burners. Although they're still used on entry-level ranges, they've largely been replaced with ceramic-glass-topped radiant elements. Electric cooktops are much more efficient than gas burners, and about 70% of the energy they consume is converted into cooking heat.
Radiant cooktops rely on a thin corrugated ribbon within an insulating "bowl" that directs heat upward. The element cycles on and off to maintain the desired temperature. Because glass is a poor heat conductor, the heat from the heating element warms the cookware without radiating far outward from the element. The roughly 30% heat loss comes from having to warm the glass before the pot.
Although a good electric cooktop can bring a pot of water to a boil faster than a gas cooktop, having the glass between the element and the pot makes for poor heat response. If you're warming a pot of milk on a gas cooktop and it's about to boil over, turning off the burner will stop the boiling almost instantly. On an electric cooktop, there's enough latent heat in the glass that milk will continue to boil.
Most radiant cooktops have at least one burner with a variable-size element that can operate at two or three different diameters. Look for a variety of element sizes that match an assortment of cookware sizes. Compared to the grate system on a gas cooktop, the smooth, sealed, glass cooking surface on an electric unit is minimalist and unobtrusive, and spills can be wiped away with a sponge—after the surface cools.
The surface does present a few potential problems, however. The glass can be scratched with abrasive cleaners, grains of sugar on the bottom of a pot, or even the rough surface of a cast-iron skillet. Blunt objects—a pepper mill, for instance—dropped from an overhead cabinet can crack the surface, and foods like sugar, sugar syrup, milk, and tomato sauce must be removed immediately. These items and some recalcitrant stains have to be scraped off with a razor blade held at 30º to the surface. (Cooktop manufacturers sell scrapers that make it easy to use a razor blade properly.)
Control at the Tip of a Finger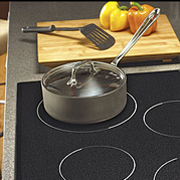 The matte-black graphite glass of Dacor's Electric Glide cooktop distinguishes this stove from the glossy finish on most others. Each of the four burners on the 30-in.-wide Discovery model (MET304; $1900) is a different size. The dual-size element expands from 5-1/2-in. to 9-3/4-in., accommodating cookware ranging from a small butter-warming pot to a large stockpot. With the larger size activated, it's the most powerful burner on the cooktop at 2400w.
The Electric Glide name comes from the touch controls. Each burner has its own control bar. By sliding your finger along the bar, you increase or decrease heat as indicated by a graduated light bar that changes color, height, and length as temperature increases. An accessory pop-up downdraft vent costs an extra $890.
Elements of All Shapes and Sizes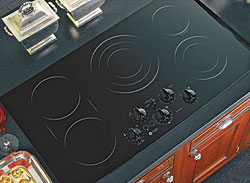 If you like the tactile quality of twisting a knob to adjust heat, GE offers several electric smooth-top models with knob controls. The 36-in. model (PP962BMBB; $900) offers a great deal of flexibility. The central three-ring element adjusts among 6 in., 9 in., and 12 in., and from 1050w at the smallest setting to 3000w at the largest diameter. There is also a double-ring element (5 in. and 8 in.), and the two 7-in. elements on the left side have a bridge element between them. When both burners and the bridge element are turned on, an elongated cooking oval is created that can be used to accommodate large roasting pans or a griddle. The smallest element in this cooktop is a 120w zone designed to keep foods warm while the rest of the meal is being prepared.
As on many GE cooktops, a separate lockout knob for all the elements is intended to protect children and aging parents from harm.
Set Apart by More than it's Shape

If Steve Jobs had designed a cooking appliance instead of computers, it might look like this one from Gaggenau (CE 490; $3000). Forget a row of dials or touch keys: Move the single knob in the general direction of the element you wish to use, and twist it. Once the heating level is set, let go; a magnet in the knob centers it back in its cradle. Other functions are engaged with a combination of the knob and touch buttons.
One unique feature, called automatic boil-start control, lets you set the simmer temperature before heating begins; the cooktop brings the pot to a boil and then reduces heat to the simmer temperature. Combine this with cooking timers that automatically shut off each element, and cooking several dishes simultaneously becomes a lot easier.
The elongated rectangle—36-in. wide by 14-in. deep, including the stainless-steel trim—arranges the burners horizontally so that there's no reaching over hot pots. (The typical cooktop is between 21-in. and 22-in. deep.)