What's Better: Crawlspace or Slab-on-Grade?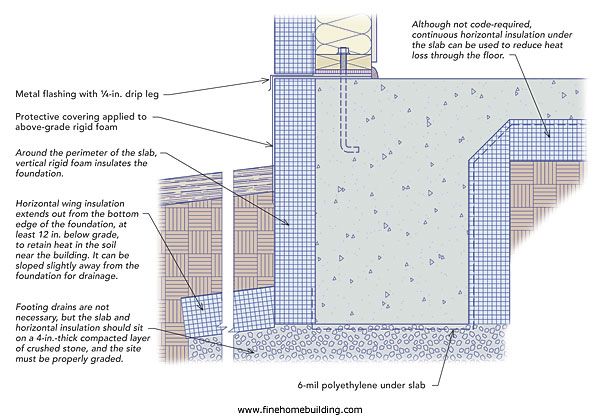 Non_Trad_Stu's 1400-sq. ft. house will be on one floor and constructed with structural insulated panels for energy efficiency. At least that much seems clear. But he's uncertain of which type of foundation to use. His designer seems opposed to the use of insulating concrete forms for fear they could provide cover for termites. And that has led Non_Trad to wonder whether a slab-on-grade foundation would be better for him.
So, what are the pros and cons I'm facing with either approach?" he asks in the Breaktime Construction Techniques forum. "All I can think of is how foot friendly is concrete? How difficult/expensive is putting wood floor on top of concrete? What else do I need to take into account for either approach?"
More flexibility with a crawlspace
"My choice would be crawlspace," Semar replies.
Not only would a crawlspace allow Non_Trad to keep all air ducts, along with the furnace, beneath the floor, but it also would provide easy access for servicing plumbing, electrical and telphone services. Another benefit: More flexibility with flooring, and the possibility of providing a curbless shower.
"I just have an aversity to hacking up concrete floors if I wanted to change/remodel something," he adds.
Semar discounts the designer's concerns that an ICF foundation might harbor termites because they have a solid concrete connection to the footing.
DanH suggests that if Non_Trad does go with a crawlspace he make it higher than the 18 in. required by code in most locations. A 2-ft. space would be better, he says, and more if you can get it.
"But pay attention to drainage," Dan adds. "You don't want the crawl filling up with water because it was dug low to meet the clearance requirement.
If increasing age, and decreasing mobility, are a potential issue with a crawlspace or basement, Junkhound isn't buying it. Junkhound, "pushing 70," would always favor a basement unless a high water table prevented it. In fact, his 89-year-old mother loves her basement, especially during the summer when she can escape the heat of central Illinois without running her air conditioner.
"Having a crawl space gives you an additional level in which to run your ducts, pipes, and wires," adds Renosteinke. "This sure helps with later repairs and alterations. Putting in the piers ought to be no harder than prepping for a slab. As an added plus, a crawl space allows for a COMPLETE termite inspection."
And on that score, Renosteinke recommends all the wood in the house be pressure-treated, "Not just at ground level…the critters can build 4-ft. tu"bes up to access wood, and some types fly."
Slab is the way to go
Catherine, however, sees it differently.
"I just finished a slab-on-grade, SIPS home at the NC coast," she writes, "and firmly believe that a slab is the only way to go."
While crawlspaces are "nasty/ skinny/ moldy/ gross places full of spiders," a slab can contain a radiant-floor heat distribution system that will keep Non_Trad's toes warm in winter. Put in solar panels to warm the water, she adds, and take advantage of North Carolina's generous incentives for renewable energy.
"Slab-on-grade gets my vote, too," says Rdesigns. Among Rdesign's other recommendations: 4 in. of foam installed horizontally around the floor perimeter, HVAD ducts and equipment inside the conditioned space (not the attic), and centralized plumbing.
"Stained concrete floors are durable, attractive and cheap," Rdesign writes. "So are area rugs. No worries about crawlspace moisture, crawlspace vents or crawlspace critters or mold. True, you can't have a wine cellar under the house, so just buy a free-standing climate-controlled one instead.
"Live it up–you're only 74."
Except that concrete is hard
The fact that concrete is its own finish floor is certainly an advantage, saving both time and materials in construction while opening the door to a variety of stained and acid-etched finishes.
As Catherine adds, concrete won't harbor any allergens and it's easy to keep clean.
And DanH wonders whether its reputation for brutal hardness underfoot is "more psychological than real."
Hardly, says Sapwood. "I suspect that you haven't spent a good deal of your working life standing on a concrete floor. Psychological or not, a concrete floor is less forgiving on my ol' legs than wood, dirt, or just about anything else. Slabs are awfully hard. My past two shops have been slabs on grade. Great work surfaces but hard to stand on for all day. Something to consider depending on what your standing/sitting ratio is in the house. "
If that's the case, why do people like tiled kitchens so much, DanH asks.
Some don't.
"I don't love tile in the kitchen," says Aimless. "It is hard, unforgiving, and cold. Add to that trying to keep grout lines clean is a pain in the kiester. Tearing out the tile and replacing with vinyl is high on my list of improvements for this home."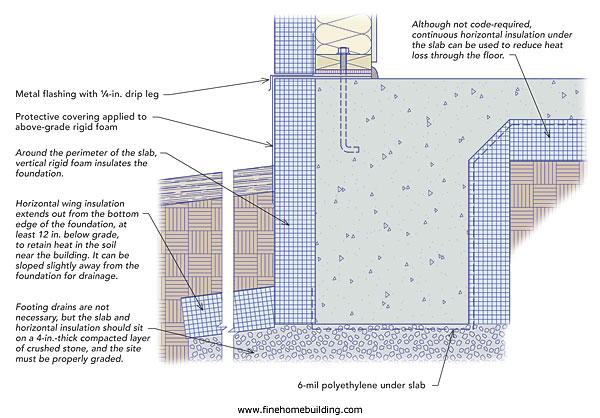 A frost-protected slab would allow you to build a slab-on-grade home in a cold-climate zone