A Step Ahead to Build a Shed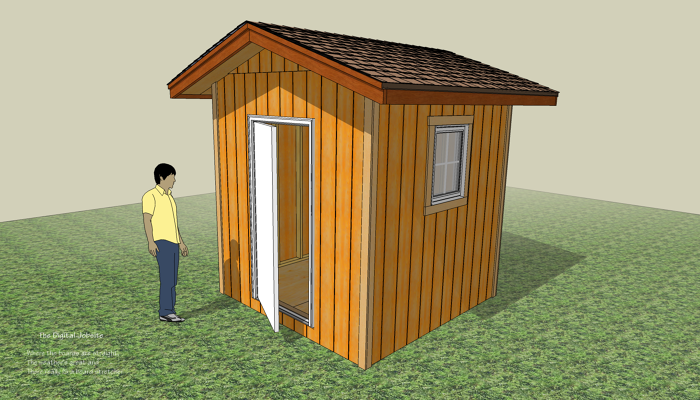 Overview:
Viewer numbers from my Digital Jobsite Channel on YouTube reflect a great deal of interest in modeling the straightforward shed shown in the 4-part Digital Jobsite series that begins with "Use Sketchup to Create a 3D Framing Model". Comments on various segments of the series suggest viewers are looking for insight into general carpentry aspects of shed-building as much, if not more, than 3D modeling information for this type of project. One viewer/subscriber in particular asked for a carpentry tutorial to build a simple but sturdy backyard tool shed. That request is the basis for this Digital Jobsite series to construct such a shed.
Common Ground:
Shed building is a popular topic by any measure, and not lacking in sources for information on all aspects of the subject. Two excellent video series here at Fine Homebuilding thoroughly cover building a Garden Shed and a Tool Shed. Information from these two series could be considered "continuing education" for potential shed-builders. Another great resource for shed research is the 5-part series done by Matt Donely at MasterSketchUp.com. It is an in-depth tutorial for modeling yet another type of small shed that gives insight into both modeling, designing and potentially building a useful backyard shed. Although shed design, purpose and function are individual choices, variety is as great as the number of potential shed-builders. There is common ground between all these shed design and building sources and more, so rather than attempt an all-inclusive shed creation manefesto, my goal here is to provide additional material to assist viewers in creating the shed that is best for them.
Shed Building vs Shed Modeling:

Unlike my earlier "3D Framing Model" shed tutorial that focused on using SketchUp to model a shed, this tutorial uses a shed model to discuss and demonstrate basic planning, layout and carpentry methods you will encounter in building a shed of this type. Take this short video tour of the shed model I created for doing this series.
Real-Time Approach:
Since the origin of this shed building series comes from a viewer's comments, it's only appropriate to use a real-time approach for developing future blog post installments. The model you just "toured" is available for download from the SketchUp Component Warehouse for inspection and exploration by clicking here. Although the model is "complete", thanks to SketchUp's versatility, it can be modified to accomodate a wide range of viewer questions and comments. The next Digital Jobsite blog post in the series will discuss some basic layout concepts which will be incorporated into floor framing and subfloor installation. Viewer feedback will influence aspects of the tutorial which I hope will make it more useful to participants and viewers alike.
Thanks for stopping by The Digital Jobsite! Feel free to add to the development of this tutorial with questions and comments…