Can My Flooring Be Refinished?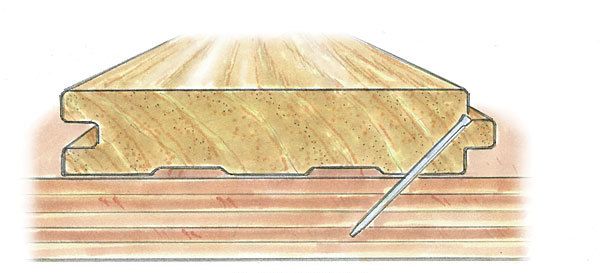 Q:
I have a 1910 bungalow with hardwood floors in need of refinishing. You can see the nails on the surface, and I've had flooring companies tell me that the wood has been sanded too far. These companies say that I should replace the nails. I believe that the old floors are not actually thin, but were originally face-nailed rather than blind-nailed. Was this a common practice in those days? Also, if I'm wrong and my floors are blind-nailed, how can I accurately determine how thick the boards are?
T.J. Brauer, None
A:
Scott Sidler, owner of Austin Home Restoration in Orlando, Fla., replies: Tongue-and-groove (T&G) strip flooring, which was typically blind-nailed through the tongue of the board, was the predominant wood flooring in 1910, but there were still plenty of homes with plank flooring, which was face-nailed.
If the face-nailing pattern is consistent throughout the flooring and not just in certain areas (think repair) or only along joints between boards (think worn T&G flooring), then it's likely that your floors were face-nailed and can be refinished again and again. As long as there is a subfloor to support it, there really isn't a limit to the number of sandings you can do on a face-nailed plank floor.
A word of caution here: If the nails are flush or are protruding above the surface of the planks, then you should drive them below the surface with a nail set before sanding. A drum sander hitting the nail heads can create sparks, and that's dangerous when combined with the fine wood dust created when sanding.
If the flooring is blind-nailed T&G strips, it can be refinished only if there is more than 1⁄16 in. of wood left above the groove. Any less than that, and you could sand through the wear layer of the boards, exposing the tongue underneath and weakening the connection between boards.
You can measure how much remains above the tongue by inserting a thin metal depth gauge into the gap between the boards. To determine a floorboard's total thickness, remove a heat register, floor grate, or threshold so that you can see a cross section of the flooring.