What's the Difference: Tinners and Aviation Snips
Metal-cutting snips
The home-building industry uses sheet metal sparingly, but the places where it is used—gutters, ducts, flashing—are often essential in helping a house to be energy efficient and watertight. If you enter your local home center expecting to find a set of all-purpose snips for those moments when you need to replace a piece of duct or to cut a piece of flashing, however, you're liable to be taken aback when you encounter a wall of tools with names such as duckbill tinners and long-cut offset aviation snips. Unless you do a lot of HVAC work, you probably don't need an array of tools for cutting sheet metal. In order to choose the specific tools that will make the cuts you most often need to make, though, you need to know the differences between them.
Also, be sure to check the maximum metal thickness a pair of snips is capable of cutting. Trying to cut heavy-gauge metal with light-gauge snips is a recipe for sore hands and a damaged tool. Metal-cutting snips fall into two basic categories: tin snips and aviation snips.
Tinners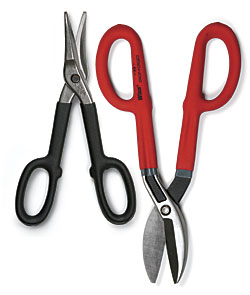 Left: Malco MD10 duckbill tin snips $23 malcoproducts.com
Right: Wiss A9 tin snips $18 wisstool.comRodney Diaz
Tin snips, or tinners, resemble a pair of scissors, and this simple design means few problems with malfunctioning or breaking. Compared to scissors, though, they have longer handles and shorter blades. The handles have large openings to accommodate hands with gloves, which are essential when dealing with sheet metal, whose corners and cut ends can be razor sharp. Regular tin snips work best on long, straight cuts, although they also can be used to cut gentle curves. Duckbill tin snips get their name from the shape of the blades, which are tapered and allow for cutting sharper curves than regular tin snips. This design difference comes at a sacrifice, though: Duckbill tin snips can't handle metal of the same thickness as regular tin snips. The simple design and solid construction of most tin snips means that you will likely never need to replace them, although you may need to resharpen the blades from time to time.
Aviation Snips
Aviation snips are so-named because they were developed to cut sheet metal in the airplane-manufacturing industry. Aviation snips are also known as compound snips because they have two pivot points instead of one. This reduces the amount of force necessary to make cuts and, therefore, reduces user fatigue. Aviation snips are also spring-loaded, further lessening fatigue, and have a hook lock to keep them closed when not in use.
Standard aviation snips come in three basic styles that are sold separately or as a set. These variations are necessary because sheet metal is stiff, is often in large pieces, and sometimes must be cut after it is in place. Most manufacturers color-code the handles.
Aviation snips are not designed to make long cuts in the middle of a sheet. For that, you're better off with a pair of tinners. If you have only aviation snips, however, you can make such a cut by using the left-cutting and right-cutting snips together. With one in each hand, walk the tools across the sheet, alternating cuts between left and right. You'll end up with a waste strip in the middle.
Manufacturers have developed variations on the standard aviation-snip design to meet specific needs. Vertical snips, available in left- and right-cutting styles, have blades positioned at a 90° angle to the handles. These snips make overhead cuts much easier, and they can reach tight locations that regular aviation snips can't. The drawback is in cutting strength; because of the angle and the different grasp that must be used, these snips can't cut through the 18-ga. galvanized steel or 20-ga. stainless steel that regular aviation snips can handle.
Offset aviation snips also have angled blades, but the angle is not as severe as on vertical snips. Offset snips are helpful for making cuts in locations where the user's hands might get in the way or where the user doesn't have a free hand to move the cut metal out of the way. With offset snips, you also can cut diamond lath without shredding your gloves.
Other variations include long-cut aviation snips, which have extralong blades for making long cuts quickly, and bulldog aviation snips, which have short blades that increase the leverage needed for cutting through seams and thicker metals. Bulldog snips are also good for cutting notches.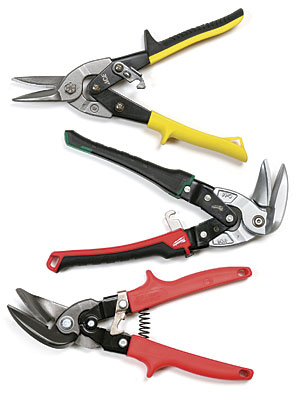 From top to bottom: Ace straight-cut aviation snips $14 acehardware.com; Milwaukee right-cut vertical aviation snips $22 milwaukeetool.com; Malco M2006 offset left-cut aviation snips $30 malcoproducts.com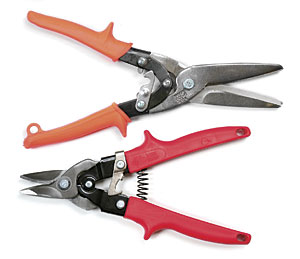 Top: Wiss M300 long-cut aviation snips $19 wisstool.com
Bottom: Malco M2005 bulldog aviation snips $26 malcoproducts.comRodney Diaz
Color-coded handles
The handles on standard aviation snips are colorcoded: Red snips are best for cutting to the left, yellow snips are best for making straight cuts, and green snips are best for cutting to the right.