Design
An Elegant Enclosure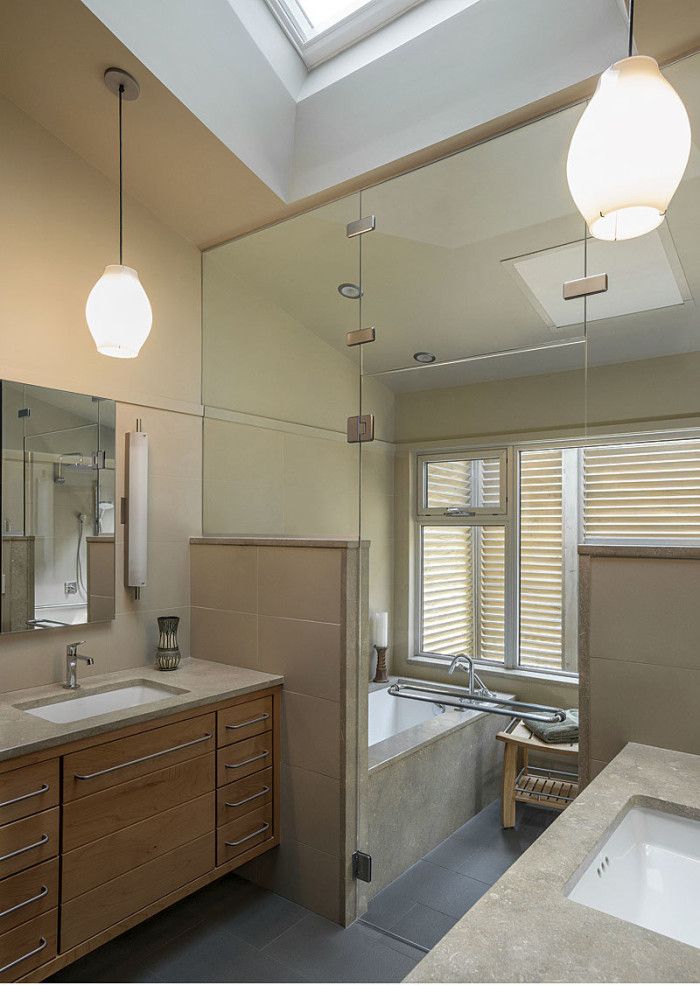 An expanded bath. While the outdoor enclosure limits the sightline out of the bathroom, it allowed for a greater amount of glass to be placed in the bathroom. The large windows and skylight enable valuable daylight to enter the bath, increasing its comfort and expanding its perceived size.
One of the fun aspects of being at a firm founded in the mid-1980s is that we regularly get an opportunity to renovate our prior designs for new owners with new ideas. When we designed this house, the owners wanted modest windows in the master bathroom, which is on the entry side of the house. New owners of the house recently hired us to redesign the space with a more modern and Asian aesthetic.
We installed a new glass wall and new windows, and we repositioned a skylight to bring daylight into the bathroom. To remedy the privacy issue, we built a new screened outdoor enclosure adjacent to the new windows.
The enclosure blocks views into the bathroom, and the light filtering through its slats creates a great plant habitat.A small creek element provides the tranquil sound of running water. The screen detail is a simple solution to a common design challenge: combining privacy and light.
| | |
| --- | --- |
| | A complementary screen. The slatted screen enclosure is about 4 ft. deep, 10 ft. long, and 8 ft. high. Made of cedar timbers and slats, it's finished with a solid stain.  The materials and detailing of the timber columns and beams mirror those of the adjacent front entrance. |
Photos: courtesy of Samsel Architects