Tools & Materials
What's the Difference: Electric Ovens
Conventional, Convection, and Microwave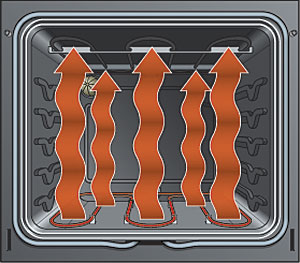 The growing popularity of outdoor kitchens and year-round grilling hasn't changed the fact that most cooking is still done inside. The typical kitchen has at least a conventional and a microwave oven; some kitchens have these plus a convection oven; and still others have ovens that combine conventional with convection cooking, or convection with microwave cooking. When outfitting a new or remodeled kitchen, it's important to think about how you cook, and then to consider which ovens you'll need. Here's a look at your options in electric ovens.
Conventional ovens
In a conventional oven, food is cooked through radiation and conduction: A heating element on the bottom of the oven transfers thermal energy through the chamber via electromagnetic waves. This energy then heats the exposed parts of the food through radiation. It also warms the container holding the food, which then transfers heat to the unexposed parts of the food through conduction. As a result, the center is the last area to be cooked. This process is good if you like your food crispy on the outside and tender on the inside, but it also can result in food that looks done on the outside but isn't cooked all the way through.
The main drawback of this type of oven is that it does not create uniform heating conditions throughout the chamber. In a three-rack oven, items on the bottom rack cook most quickly because they are nearest the heating element, and items on the middle rack cook the slowest. Items on the top rack cook almost as quickly as those on the bottom rack because the hot air in the chamber rises to the top.
Convection ovens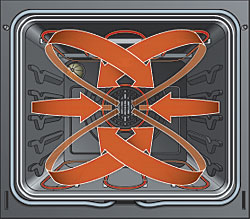 A convection oven has heating elements on the top and bottom, and a third element connected to a fan on the back wall of the chamber. This fan moves the air in the chamber, which cooks the food more evenly than in a conventional oven. This can be observed easily when baking three sheets of cookies. Unlike in a conventional oven, which requires rotating the cookie sheets through the racks for even baking, all three layers in a convection oven bake at the same rate.
Because moving air cooks more quickly than still air, the temperature in a convection oven doesn't have to be as high. A ballpark figure is to reduce the temperature by 25°F. The food will still cook faster, though; how much faster requires experimenting, but figure on somewhere between 10% and 25%. Manufacturer guidelines can help here, too.
If a convection oven cooks more evenly and more quickly than a conventional oven, why haven't convection ovens replaced conventional ovens? The food in a convection oven is cooked by circulating air, so anything that impedes the air from circulating freely—such as too many dishes or pans, dishes or pans with high sides, or covered dishes—reduces the oven's efficiency. If thin-crust pizza is on the menu, therefore, a convection oven can have it ready sooner; if you're serving up a casserole, however, you're better off using a conventional oven.
Microwave ovens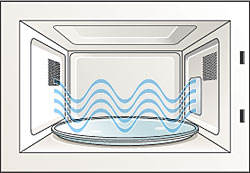 The microwave oven has come a long way since Raytheon introduced the Radarange, a 750-lb. appliance the size of a refrigerator that sold for $5000 in 1947. Its size, portability, and usefulness have made it a staple in North American kitchens, not to mention in employee lunchrooms and college dorm rooms. A microwave oven works by emitting electromagnetic waves at a certain frequency that penetrate food to a depth of up to 1-1⁄2 in. These waves cause liquid-water molecules to become agitated and produce heat through friction. Areas deeper than 1-1⁄2 in. are heated through conduction.
It takes much longer to defrost food in a microwave oven than it does to cook it because ice molecules, unlike liquid-water molecules, can't rotate. Don't be tempted to speed things up by defrosting on anything other than the defrost setting, though. The moment liquid water is present in a certain area, the microwave will start cooking that area. You'll end up with food that's cooked in some areas but still frozen in others.
A microwave oven produces waves and not actual heat, which is why you can touch the inside of the chamber immediately after cooking and not burn your hand. Therefore, the microwave's settings control the percentage of the cooking time the unit is actually producing waves, not the temperature, as with a conventional or convection oven. For example, a 1000w microwave oven set at level 5 (or 50%) still produces 1000w of power, but it cycles on and off at equal intervals.
Drawings: Trevor Johnston