How-To
Breathe Easy With Balanced Ventilation
The best solutions provide fresh air to the whole house without a severe energy penalty.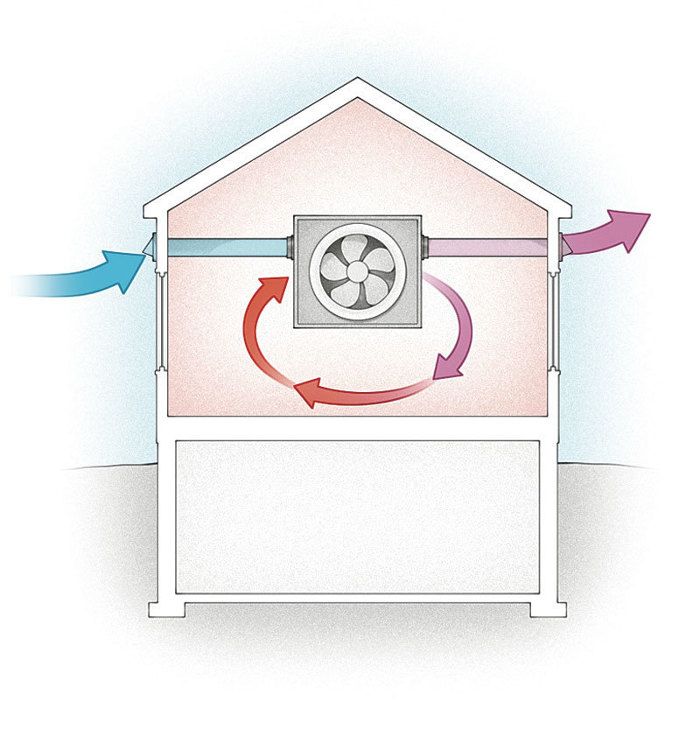 Synopsis: All houses need to exhaust stale air and bring in fresh air. Many do this through various leaks in the building envelope. As houses have gotten tighter in the last few decades, however, leaks have become an insufficient means of ventilation. In this article, contributing editor Sean Groom discusses three ways of ventilating a house. The worst way is to use exhaust-only ventilation provided by a bath fan. A better way is to use supply-only ventilation through a fan that pulls fresh air into the house. The best way is to use a balanced ventilation system such as that provided by an air exchanger, an HRV (heat-recovery ventilator), or an ERV (enthalpy-recovery ventilator). Groom explains how each of these systems works, aided by detailed illustrations. He also provides guidance for choosing between an HRV and an ERV. Sizing a balanced ventilation system is key for ensuring maximum performance and efficiency, and Groom includes tips on doing the necessary calculations. He concludes by explaining why it's important to separate your heating and air conditioning from your ventilation system.
Houses need fresh air. Without ventilation, the quality of indoor air can rapidly become worse than that of the outside air; that holds true even in urban areas. Common contaminants include gases, odors, and moisture, and these can stem from utility rooms, garages, basements, bathrooms, and kitchens.
Until recently, fresh air entered a typical house through various openings, whether intentional (a fan or open window) or unintentional (holes and leaks around windows, rim joists, door jambs, and sheathing penetrations). Over the last few decades, however, houses have become tighter, and the unintentional flow of air through the building envelope has been reduced. Once a house reaches about five air changes per hour (ACH), it's important to start thinking about using mechanical ventilation to ensure indoor-air quality.
In regions with moderate to significant heating and/or cooling loads, HRVs and ERVs are the most efficient means of mechanical ventilation. Depending on the efficiency of the heat exchanger, it can transfer anywhere from 50% to 91% of the conditioned air's heat and energy to the supply air.
Homeowner satisfaction with a recovery ventilator will depend on the answers to three questions: Does it keep the air temperature comfortable? Is it cheap to operate? Is it excessively noisy?
Does it keep the air temperature comfortable?
Comfort speaks to a unit's thermal efficiency. Thermal efficiency is the recovery ventilator's ability to transfer the temperature of the outgoing air to the incoming air. When a unit transfers a high percentage of the heat or cold to the incoming air, the fresh air can be diffused directly into the living space without creating cold drafts in the winter and warm eddies of air in the summer.
To compare the effects of efficiency on indoor-air temperature, let's say the indoor temperature is 70°F and the outdoor temperature is 30°F. The makeup air an HRV that's 75% efficient distributes through the house is 60°F—a far cry from the 30°F air pulled in by an air exchanger, but cool enough to be uncomfortable in a 70°F environment. A 90%-efficient HRV will raise the temperature of the makeup air to a more comfortable 66°F.
The Home Ventilation Institute (HVI), an independent agency, tests and reports the performance of HRVs and ERVs. You can compare the thermal efficiency of different units on its website, including both sensible recovery efficiency and apparent sensible effectiveness. It's worth checking this database instead of relying on a manufacturer's advertising.
For more photos and details, click the View PDF button below:
View PDF