Hold Your Sharpening Stone Steady on the Job Site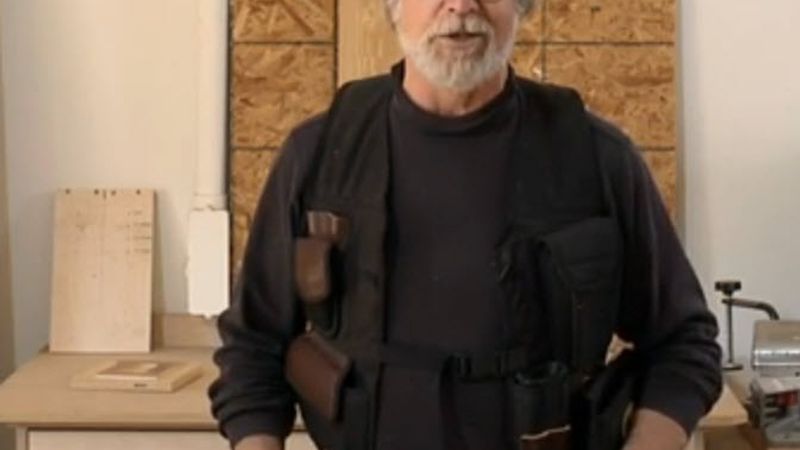 If you're on the job and need a super-sharp chisel, you could hope that your stone doesn't slide around while you try to get that edge, but there's a better way.
Bill Rainford from Merrimack, N.H., was on a job and he was missing his bench vice, which is what he usually uses to hold his stone. So he decided to make a fixture to hold the stone in place. In doing so, he made a mistake that ended up making the thing work a whole lot better. Here's what he did.
The rig starts out with a plywood base. It can be 1/2-in. thick or 3/4-in. thick, and just big enough so we can place the stone and have some generous room around it so that we can put our 1/4-in. strips of plywood that are going to hold the stone in place. Now I'm using an 18-gauge brad nailer here, and the only brads that I have are too long and end up going through the bottom of the plywood, so they're going to extend all the way through. That's what Rainford had to deal with too. So he came back and clipped the bottoms of them off, but he couldn't get it totally flush. Instead, each on of those brads extended about 1/16-in. out of the back of the plywood. But that's the secret to this: each one of those brads is a little dog that's going to hold that thing on whatever work surface you choose to use. Don't use your client's french-polished mahogany dining table for this. Use a plywood table, particle board, whatever–you know, your work surface is what you want to put this on.
Great tip, Bill. Thank you for sending it.
_________________________________________________

Attention all tipsters!
We're looking for any smart idea that would make a great There's a Better Way Video or that could be featured in the Tips & Techniques department in Fine Homebuilding magazine.
We pay for any tips that get published
You can post tips in our submit a tip blog, or just email them to Fine Homebuilding care of Chuck Miller. Thanks!
Plus, browse 30 years of great ideas in our Reader Tips department.