How-To
Cutting ceramic tile with a tile saw
If you're laying a significant amount of tile, a tile saw is an essential tool. Pros need their own, but if you lay tile only occasionally, you can find tile saws at rental yards. An alternative is to buy a tile score-and-snap cutter, which uses a carbide tooth to score the face of the tile. Once scored, tile is snapped along the line by pushing down on the handle. Scoring and snapping isn't as clean as cutting with a saw, though, and it doesn't allow you to make notching cuts as shown here.
All tile saws cut with a toothless, water-cooled diamond blade. While this blade is not as dangerous to flesh as a toothed blade, caution is still called for. With most tile saws, a sliding table is used to run the tile through the blade. Some saws, like the DeWalt shown here, also have a plunge function that allows the blade to be lowered into the tile. This makes cutouts easier, but it's not essential. To make the lesson more universal, we used the DeWalt saw as if it were a nonplunging tool.
Cutting notches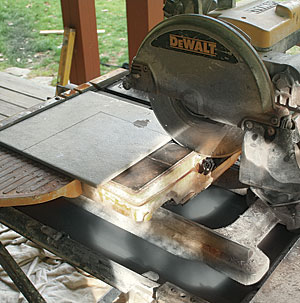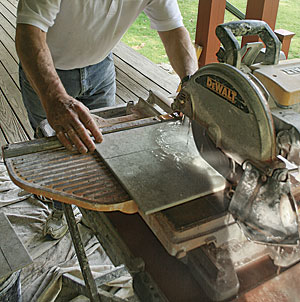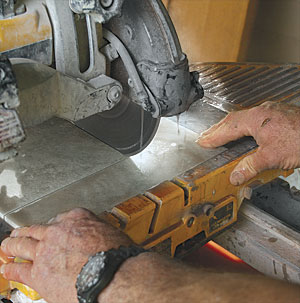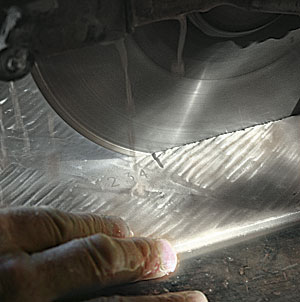 Cutting U-shapes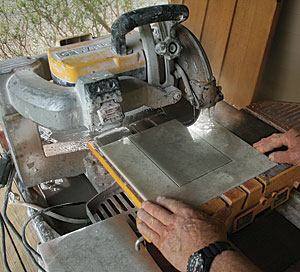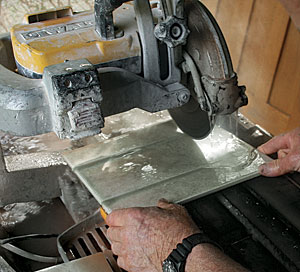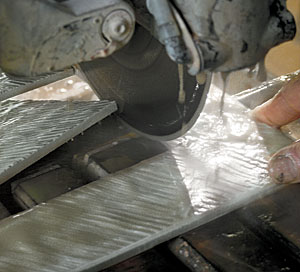 Cutting holes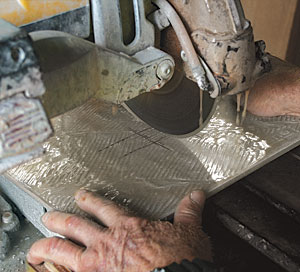 Diamonds are a saw's best friend
Used for cutting all types of tile including ceramic, porcelain, glass, and stone, tile saws rely on a blade whose rim is embedded with tiny diamonds. A constant water flow cools the blade and keeps the diamonds (which are just a form of carbon, like the charcoal in your grill) from burning up.
Holes for plumbing can be cut with a tile saw, but a diamond hole saw can save time if you do a lot of tilework.
Photos: Andy Engel, except where noted