How-To
Install a Vinyl Fence
We see what's above ground, but what matters most is below the post.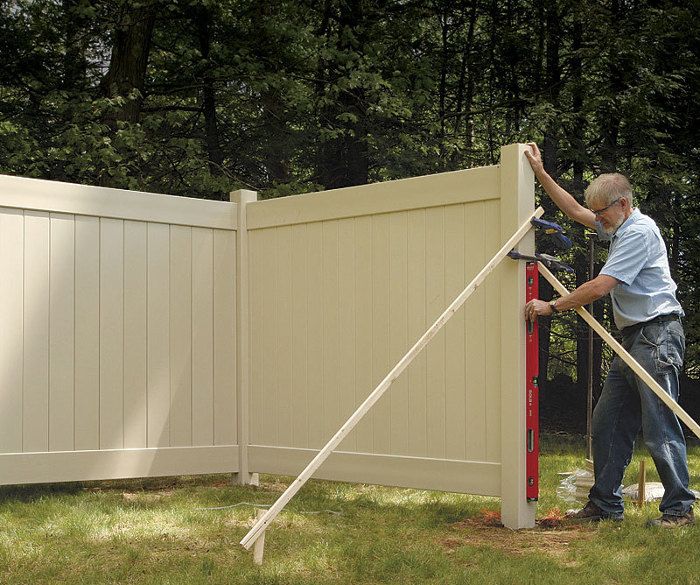 Synopsis: Andy Engel explains how to install a vinyl fence. Beginning with how to dig post holes in rocky soil, Engel shows tricks for mixing concrete, squaring a fence, keeping the posts in a straight line, and creating an efficient workflow.
Whether you're tired of looking at your neighbor's blue-tarp-covered 1970 Dodge Dart, or of seeing him gazing at your backyard hot tub, or if you just want to keep the deer out of your tulips, the solution is a fence. But that can bring its own issues. Depending on the material, fences can require regular maintenance. What if you don't have Tom Sawyer's people skills, and you aren't interested in spending your future weekends staining or painting your fence?
One solution is a vinyl fence. Like vinyl siding, once a vinyl fence is up, you generally don't have to do much to keep it looking good except give it an occasional bath. Vinyl offers another advantage: Many zoning codes require that the "finished" side of a fence face outward, leaving you either to look at the ugly side or to spend even more money on a second finished side. Vinyl fences look the same from either side.
As with any fence, a vinyl fence's longevity depends on the installation details. Think of wind loads and the sail area that a fence provides, and then of the number of fences you've seen that lean permanently to one side. How well any fence resists wind loads has much to do with the most mundane aspect of its installation: how well it's anchored in the ground.
Stay on the right side of the law
Before you even get near the drawing board, you need to be certain where the fence can go. Check with your town's land-use office to find out which zoning and building regulations apply. For example, in my town, I can build a fence right on the property line, but it can't be higher than 6 ft. above the existing grade. Other towns have different requirements, such as setbacks from the property line and restrictions on the types of fences allowed. Also, if you live in a subdivision with a homeowners association, find out its requirements. These are often more restrictive than a town's zoning regulations.
On site, start by verifying the location of your property lines. For this, you need a survey map of your property. You may have received one when you bought the property, or there may be one on file with your town's land-use office. Failing that, you might want to have one done, but that typically costs thousands of dollars.
Don't trust any monuments or driven pipes you might find that appear to be marking the property lines and corners unless you can verify them with a survey map. What looks like a property marker often isn't. And don't assume that your property line coincides with the street edge or with some established distance from the edge of the pavement. Road rights of way are wider than the pavement, and the distance from the pavement to the edge of the right of way may not be consistent.
Watch a 3-part video series on the installation of the fence.

For more photos and details, click the View PDF button below:
View PDF