How-To
Making Fiberglass Insulation Work
A quality batt installation requires proper air-sealing and attention to installation details–in other words, you need patient, conscientious installers to get your money's worth when insulating walls with fiberglass.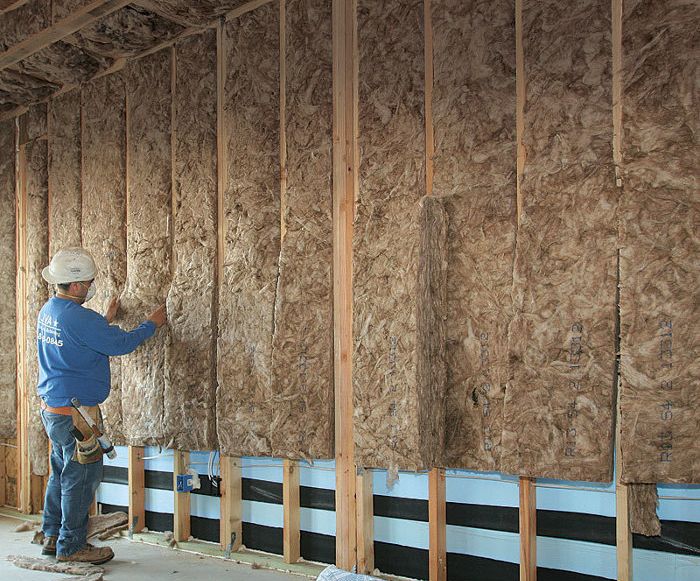 Synopsis: Fiberglass insulation is the most popular residential insulating product sold today. Unfortunately nearly all of it is poorly installed, so it doesn't perform as well as it could. Common groovy installation problems include gaps or voids around pipes, ducts, and wires, and batts that are compressed or improperly sized for the cavity. Lee Kurtas, an insulation professional in Houston, describes how to install fiberglass insulation so that it fits right and provides good thermal performance. He describes the sequence of a whole-house insulating job, including air-sealing and where to start insulating, then discusses how to efficiently and effectively delegate the work, and where energy raters are likely to focus their inspections. A comprehensive sidebar describes the RESNET rating system and provides illustrations on what  RESNET Grades I, II, and III look like in an insulated wall without drywall. Photos: Patrick McCombe
When building science and home efficiency really took off in the mid-1990s, insulation contractors started hearing regularly about how the type of insulation used affects a building's energy efficiency. Blower-door testing and thermal imaging of existing homes proved that fiberglass — as it's typically installed — didn't perform as well as other types of insulation, especially spray foam. As a result, builders and architects doing projects with energy-performance benchmarks started specifying spray foam as a way to ensure better airtightness and thermal resistance.
These builders and architects liked spray foam because it seals around penetrations such as pipes, ducts, and wires, and because it fills odd-shaped cavities quickly and easily. But spray foam does have a significant downside: cost. Insulating a typical new home with spray foam in my area costs two to three times what it costs to use fiberglass. Because of its low cost, fiberglass insulation is easily the most popular building insulation here in Houston and in the rest of the country. For example, fiberglass makes up 85% of my company's insulation business, while spray foam represents only 10%. The rest is cellulose.
Provided it is installed according to the highest standards, fiberglass performs very well. My company has developed a cost-effective and quality approach you can adapt to meet the same standards.
Installed right, fiberglass works
For fiberglass to be effective, its installation must involve three factors. First, the building must have a durable and continuous air barrier such as taped sheathing. Second, any gaps and mechanical penetrations must be fully air-sealed with durable tape or sealant. Finally, the batts must be fit and placed with care and minimal compression.
When these three factors are present, fiberglass performs as well as other insulation types. And that's not just my opinion. Summarizing their recent findings in a multiyear head-to-head test of six insulation types, researchers at Building Science Corporation (BSC) said, "When walls are constructed with the same R-value in the stud space, and are air-sealed both inside and outside, they exhibit essentially the same thermal performance regardless of the type of insulation material used."
The important caveat in that quote — "and are air-sealed both inside and outside" — refers to the air barrier that separates interior and exterior air. Creating a good air barrier and detailing penetrations properly are essential to getting the maximum energy performance from fiberglass batts.
What is an air barrier?
It can be helpful to think of a home's air barrier as an air-filled balloon. The balloon's skin, which represents the air barrier, separates inside air from outside air. For the balloon to hold air, the skin must be sturdy enough and continuous enough to resist the air pressure inside the balloon. It's an apt analogy, because a balloon, like a home's air barrier, is not perfectly airtight. Even the most stringent building-performance programs allow some air leakage. The goal is to make the air barrier as complete and free of leaks as possible.
For more photos, illustrations, and details, click the View PDF button below:
View PDF