Design
Project Gallery: Cool Fun in the Summer Sun
Three summer projects, submitted to our recent online contest
Backyard paradise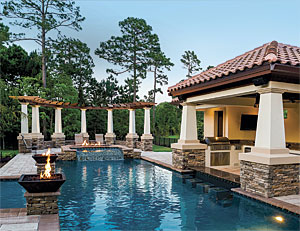 This elegant pool and cabana turned a lackluster yard into a welcoming space for entertaining family and friends. To complement the Mediterranean-style home, the cabana— with its fully equipped outdoor kitchen—has a custom stucco finish and tiled roof. The pool features in-water bar seating and a waterfall that flows into it from a raised hot tub. Whether one is lounging under the gracefully curving cypress pergola or indulging in a moonlight swim, large and small gas fire pits add evening warmth and ambience.
Cabana and pergola design: Samuel R. Clausen, Pyramid Home Designs, Jacksonville, Fla.; pyramidcustomhomedesigns.com
Cabana and pergola construction: Nick Sandifer, Sandifer Custom Homes, Jacksonville, Fla.; sandifercustomhomes.com
Pool design and construction: Pools by John Clarkson, Jacksonville, Fla.; pbjc.com
Landscaping: Scapes of North Florida, Jacksonville, Fla.; topscapes.com
Photograph: Nathan Deremer, Deremer Studios, deremerstudios.com
Tropical oasis
When the homeowners' association would not allow his palm trees to be removed, Greg Becker planned his backyard pool around them. The lagoonlike appearance is enhanced by the beach entry, tropical plants, rock outcroppings, and gas tiki torches from Hawaii that surround the saltwater pool. The yard is fully wired for sound, and there is a screen on one side of the pool that can be inflated for alfresco evening movie viewing.

Design premise: Valerie and Greg Becker
Pool construction: RHR Pools, Jupiter, Fla.; rhrpools.com
Landscaping: Jupiter Island Landscape, Tequesta, Fla.; jupiterislandlandscape.com
Photograph: courtesy of Caroline Becker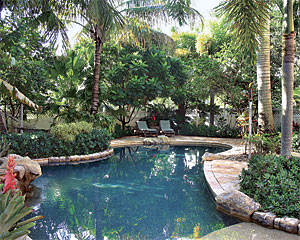 Breaking the boundaries
Zoning restrictions limited the size of the pool house planned for this site, so twin pool houses were built to complement this gracious infinity pool. The building on the left houses a laundry area, an indoor kitchen, and the mechanicals for the pool. The building on the right contains changing, bath, and shower rooms. An outdoor kitchen is located behind a Rumford-style fireplace that sits beneath a weatherproof flat-screen television.
Pool houses and pergola design: Brandon Diem, 1+1 Design, Hingham, Mass.; 1plus1-design.com
Pool houses and pergola construction: Fallon Custom Homes, Needham, Mass.; falloncustomhomes.com
Pool and hardscape: Paragon Landscape Construction, North Marshfield, Mass.; paragonlandscape.com
Landscape architect: Dan K. Gordon, Dan K. Gordon Landscape Architects, Wellesley, Mass.; dangordonassociates.com
Photographs: courtesy of Brandon Diem