Design
Hideaway Kitchen Table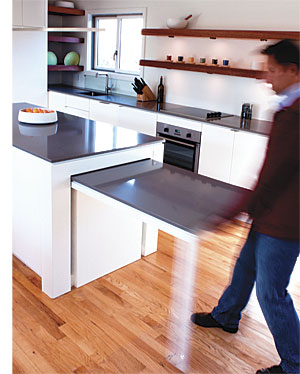 This kitchen island with a pull-out table was actually my client's idea. He and his wife sometimes entertain large groups of guests, and they wanted to easily seat more people during those occasions. With that in mind, we came up with the table shown here.
The project is located in Montauk, N.Y., and I'm in Boston, so I knew that I would have limited contact with the builder, Chris Behan. The details of the island had to be precise because we didn't have the luxury of discussing things on-site. In addition to the typical elevations and details, my building plans also included renderings of this multilayered island.
The final design was essentially an island that incorporates a horizontal chase between the top of the cabinets and the underside of the countertop. The two-legged steel table slides in and out of this chase, guided by a pair of 1×3 cleats that are fastened to the top of the cabinets. A steel plate bolted to the end of the metal frame hits the 2×4 frame of the island to prevent the table from coming out altogether.
My only concern was that the combined weight of the steel table frame and Caesarstone top would make the table too heavy to slide in and out, but the clients assure me that it works just fine.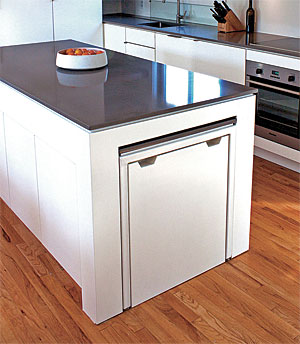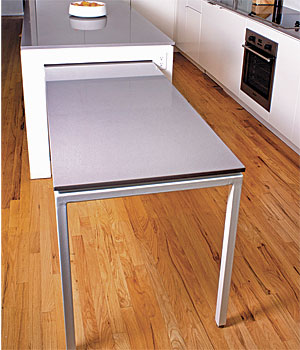 Photos: Donovan Moran, courtesy of Chris Greenawalt