Design
Sun-Splashed Master Bath
Breaking down a new master bath highlights lessons in savvy design.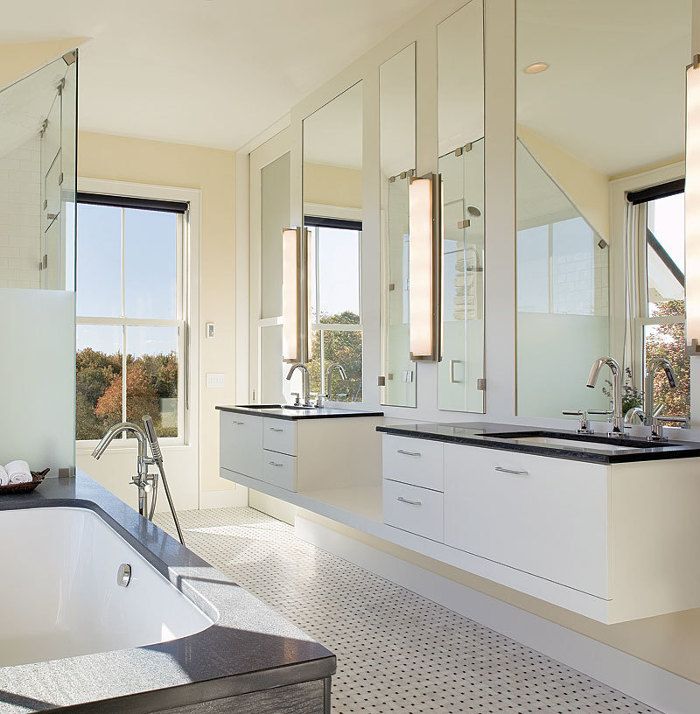 Synopsis: The master bath in a home that architect Gale Goff designed in Little Compton, R.I., takes advantage of its wetland setting and access to views of rolling fields. The tub is positioned in a south-facing dormer below two large windows, large 2-over-2 double-hung windows bring in additional daylight, and large mirrors reflect daylight throughout the space. Other notable features of this bath include a tub deck that extends into the adjacent shower to provide a seat, and two floating vanities that make the narrow room seem wider. Photo: Warren Jagger
Little Compton, R.I., is characterized by shingled, gabled buildings set in a rural landscape surrounded by stone walls. That was the regional context for this new family home I designed while at the firm of Estes/ Twombly Architects. The site is predominantly wetlands, with the house set on a plateau to capture southern exposure and stunning views of rolling fields, which are two elements the homeowners wanted to embrace with the design of their master bathroom. The details of the bathroom's design and how it was conceived make the room an exceptional space and help bring it into alignment with the traditional and contemporary qualities of the rest of the home.
Bed/Bath Connection
Two wall-height sliding pocket doors connect the bathroom seamlessly to the adjacent bedroom, creating a his-and-hers circulation path between the two spaces. Storage for both the bathroom and the bedroom is provided by a built-in linen cabinet. Because of its placement, the cabinet also creates an alcove for the toilet.
For more photos, drawings, and details, click the View PDF button below:
View PDF