Tools & Materials
Smart-Home Revolution
Connectivity is at the door. Are you ready to let it in?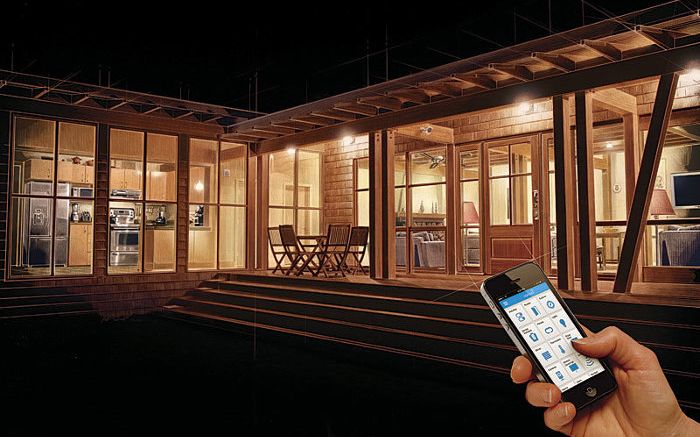 Synopsis: Thanks to the Internet of Things and advances in mobile technology, the "smart home" is in our midst. But are we ready for it? In this article, author Sean Groom helps readers make sense of the rapidly evolving field of products and networking devices that enable homeowners to monitor and control their home's appliances and mechanical systems from afar. In addition to basic information about how home automation works, Groom describes several plug-and-play products that enable even beginners to quickly and easily interact remotely with their home's thermostat, security system, door locks, and appliances. A chart compares popular network systems, including Wink, Insteon, Iris, and WeMo, to help readers choose the one compatible with their mobile device. The concept of geofencing is explained, as is manufacturers' use of data collected from users of internet-connected devices.
Not long ago I ran into a friend who had recently purchased a vacation house. When he asked if I wanted to see it and then reached for his smartphone, I assumed I'd be swiping through a digital photo album. Instead, he showed me a live video stream from a series of cameras mounted in and around the house. We even zoomed in to view a fence-company estimator walking the property line.
With his vacation house located hours away in an isolated setting, my friend was anxious about security — not to mention the possibility of a water pipe breaking and leaking, undetected, for weeks. Rather than pay a security company to monitor the house, he installed a suite of smart-home products. With a couple of cameras, some radio-enabled switches and valves, an internet router, and a smartphone, he can monitor his property visually, turn fixtures on and off, and open and close plumbing valves. If certain conditions at the house change, he gets a text alert.
Thanks to the Internet of Things (IoT), the smart home is in our midst. If you're not familiar with that phrase, here's a quick primer: The first version of the internet was about connecting computers to each other. The second version (2.0) was about social media — people connecting to one another. The latest version (3.0) is about connecting everything else — the Internet of Things.
Not only did off-the-shelf home automation quiet my friend's concerns about leaving his second home unattended, but he was able to set up the system without much trouble. He is, however, a highly skilled software developer. For early adopters like him, the much-vaunted smart home has arrived. What about for the rest of us?
What makes a house smart?
At its most basic, a smart home is about connecting household products to your home's wireless network so you can change settings remotely using an app loaded on your smartphone or tablet. (Most smart-home apps are optimized for mobile devices rather than computers.) Some apps communicate only with a particular fixture or suite of products; others work with a hub, a sort of router that connects all your smart products.
This technology controls new, "smart" electronics and appliances with a radio receiver built in, or old-fashioned "dumb" products plugged into a radio-enabled adapter that communicates with the app on your phone or tablet through your Wi-Fi network or through a hub.
For more photos and details, click the View PDF button below:
View PDF