Wireless Charging on your Countertop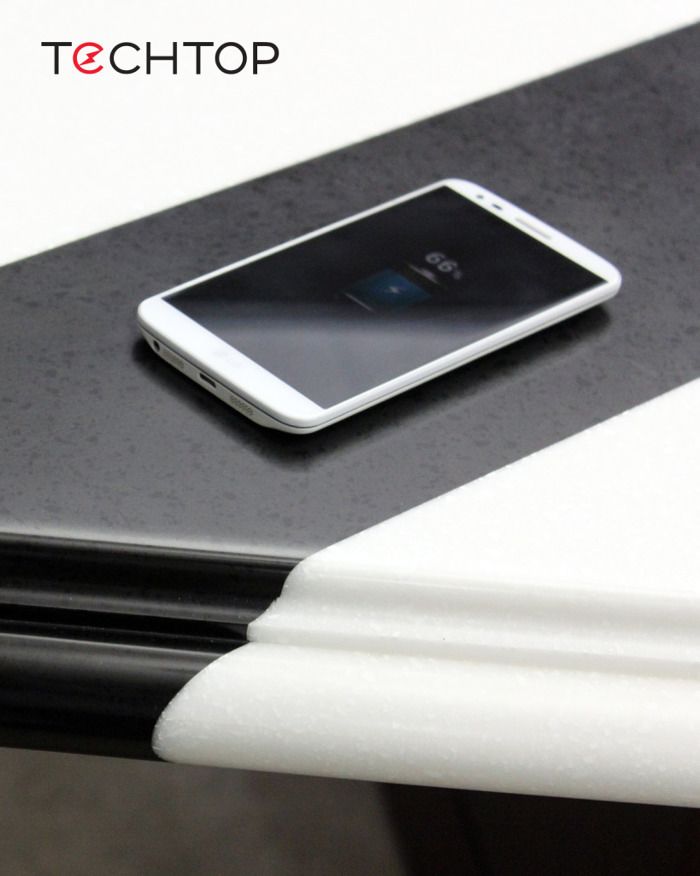 Everyone these days is talking about the connected home, and at KBIS this week, home technology was in the spotlight again–though in this case, the emphasis was, you might say, on the disconnect. Taking top honors in this year's "Best of KBIS" product showcase was LG Hausys's TechTop wireless charging surface that enables cell phone users to charge their phones simply by placing them on a countertop. No wired connection required.
TechTop technology, in the form of a transmitter coil, can be embedded into any HiMac solid surface or Viatera quartz countertop. It's not as high-tech, perhaps, as it appears–the bottom of the countertop is routed to accommodate the coil, which is then plugged into an AC outlet. The electrical charge is transmitted wirelessly to the phone through the countertop via a magnetic field rather than a cable. The TechTop uses "Qi" wireless charging technology, which makes it compatible with some android phones but not iPhones, which would require an adapter. Charging occurs when the phone is placed in a 1 1/2-in. area over the coil. Only one device can be charged at a time.
According to the company, TechTop is currently available only for commercial applications, although a dedicated website includes a feature that allows consumers to determine if their phones are compatible and to search for local fabricators.
TechTop is not the first countertop material to promise wireless charging for cell phones. DuPont announced at last year's KBIS that it was embedding phone-charging technology in its Corian countertops, but we are still awaiting the product, which is slated for release in the first quarter of 2015. Developed in partnership with the Power Matters Alliance, DuPont's wireless charger uses the Powermat wireless charging format from Duracell, which works with iPhones. Charging pads like the Powermat, which allow wireless charging of multiple phones, have been around for a few years already. It's assumed that embedding these devices in countertops, tabletops, and other household surfaces is a logical next step. What's not quite as logical, though–at least to someone who's upgraded her phone at least four times since her last kitchen remodel–is the wisdom of marrying rapidly advancing technology to a surface we hope will be around for a long time.