How-To
21st Century Post-and-Beam Barn
Modern hardware takes the place of time-consuming traditional timber-framing joinery in this 14x20 barn.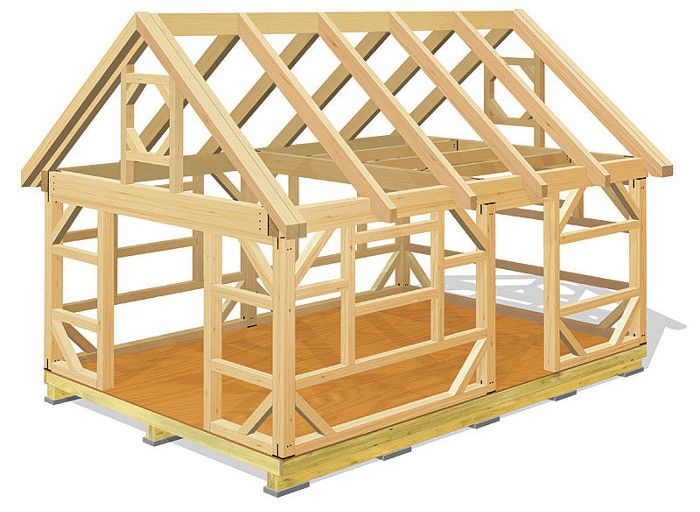 Synopsis: This article, an excerpt from the forthcoming book Building Sheds (The Taunton Press), details a modern approach to building a traditional 14×20 timber-frame barn. Rather than relying on mortise-and-tenon joinery, this structure is fastened together with simple-to-use commercial connectors. Pine siding completes the traditional look.
Unlike in a traditional post-and-beam structure, there's not a single mortise-and-tenon or scarf joint in this whole barn. Built on a conventional 2×6 floor, the frame is assembled with metal fasteners called T-Rex connectors. Each connector's flange is screwed to a supporting member, and its leg slides into a post or beam with a slot cut to receive it. These joints are held together with aluminum pins. This modern construction method might not impress timber-frame purists, but it does provide a quick and strong way to build a beautiful post-and-beam barn.
While it's attractive on the outside, what makes this barn truly special is what's visible on the inside: an exposed frame of large white-pine timbers that would warm the heart of any barn builder. Rough-sawn timbers, sometimes called "green" lumber, are cut to full dimension; a rough-sawn 6×6 post actually measures 6 in. by 6 in. Nominal-dimension lumber is milled and surfaced to slightly smaller sizes, so a nominal 6×6 is only 5 1⁄2 in. sq., and a nominal 4×4 is 3 1⁄2 in. sq.
You aren't likely to find large timbers such as those used in this structure at home centers or at most lumberyards, so you'll probably have to find a local sawmill to cut them. Most rural areas in forest country have a few such sawmills. Sources to help find them include woodweb.com and woodmizer.com. It's likely that these web sources don't come close to representing every local sawyer, so it may also be worth asking folks at lumberyards and with tree services (who may sell logs to mills). Many of these sawmills are low-tech operations, both in their equipment and in their marketing. For example, I only know when my local sawyer is open when I see that the cable he closes his driveway with is down. One advantage of finding a local sawyer is that, because the material hasn't been marked up in price three times before you ever get a sniff of pine resin, it's likely to be a comparative bargain.
On-grade footings and a conventional floor
Our local building department allowed us to build this 280-sq.-ft. barn on an on-grade foundation, meaning that we didn't have to dig down to the frost line. Other jurisdictions may require different footings, so check with your local building department. Here, dry-stacked 2-in. solid concrete blocks support a conventionally-framed floor system. The blocks are placed in holes dug through the topsoil to the underlying subsoil. They stick at least 4 in. out of the ground so that the framing isn't in contact with the dirt.
Raise the posts
Six 6×6 posts support the roof — one on each corner and at the middle of the two 20-ft.-long walls — and these are fastened to the floor below and the beams above with T-Rex connectors. Other posts used to frame door and window openings are simply toe-screwed in place. Large-capacity saws, which are available at most tool-rental dealers, are needed to cut the timbers accurately. We used three different saws, depending on the size of the timbers. We cut the rafters, ridge beam, diagonal braces, and other smaller timbers with a 12-in. sliding compound-miter saw or a 10-in. Big Foot circular saw. We cut the larger posts and beams to length with a Prazi Beam Cutter, a chainsaw fixture attached to a circular saw. We also used this fixture to cut slots in the ends of the posts and beams for the metal connectors.
For more photos, drawings, and details, click the View PDF button below:
View PDF