Extended Tailgate: Steve Thomas, Navigator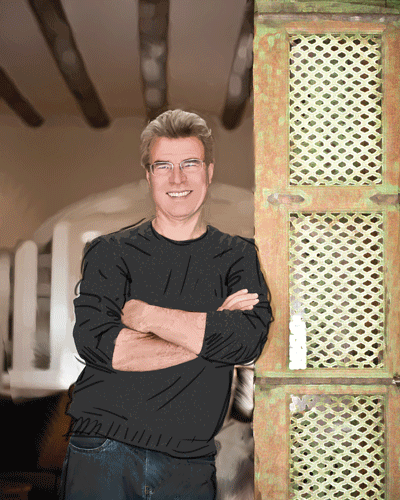 Your public life began with your work on The Last Navigator, a book and a film about Pacific Islanders who sailed without navigational equipment and relied on the sea's natural rhythms. Do you feel like any of those secrets of the sea applied to your work on land with This Old House, Renovation Nation, and Habitat for Humanity?
My job as a writer and as a television host was to guide the audience into, what were then, arcane worlds. Back in the day, there weren't the patient and friendly employees of big-box stores. If you didn't have your jargon down, there wasn't much hope for you with the grizzly guy smoking Camel straights behind the counter.
The other piece is respect for tradition. Whenever I open up an old house, I always look for hidden calling cards of the past. Especially in timber-frame houses where a joint is never going to be seen, How did they leave it? Totally shipshape, knowing that somebody would open it up later on and say, "Wow, this guy really knew what he was doing. He really did it right." Or did they just hide their Coke bottles in there because they were too lazy to take it out. Even though that carpenter will never be named, I open up the wall and see whether or not someone had respect for this building, respect for the material, respect for the job, and respect for their work. You see if they left it in such a way as to remind some future carpenter of the respect that they had.
The project in the Pacific was about preserving oral tradition. Nothing is written down. It's about honoring the words of your elders. Men and women alike were taught respect for tradition, respect for the past. Being a navigator in Micronesia and Polynesia was what made you who you were. Your identity was inextricably bound up with being a navigator. You not only guided the canoe, you guided the island. I went in as a navigator, but I was told that I also needed to understand conflict resolution. The whole purpose of a palu is to serve society–to get food, to teach the next generation of navigators how to maintain the boats, to learn and practice the language of etong. Mau was nothing without service. There was no identity or status assigned to material possessions. Food and canoes were valued but only as a collective. Your status is gained by being of service and the way to gain status is by being a navigator. That culture has since disappeared. He understood that his role in life was to be a teacher. He would make himself available to anybody who wanted to learn. His sole purpose in life was to keep the art of navigation that had gone back in this golden chain for generation upon generation and try to keep that alive. He devoted his whole life to it. He didn't care about material stuff.
What have you been doing most recently with Habitat for Humanity?
I currently have two major assignments: ReStore and Home Builders Blitz. ReStores are great for builders because anything that has been taken out of a renovation site-old cabinets, appliances, fixtures, etc.-is very marketable to a ReStore, and every dollar goes back into the local Habitat affiliate to help build houses.
Home Builders Blitz is a weeklong building and renovation program that takes place annually nationwide. It's for building pros and their subs, and it's a great way for them to give back to their community. I work on the team that both publicizes the event and solicits gifts in kind-everything from lumber to HVAC units.These stores, from a builder's perspective, anything that has been taken out of a renovation site-old cabinets, appliances, fixtures, etc.-all of that stuff is very marketable from a ReStore perspective and every dollar goes into the local Habitat affiliate and helps build houses. It is potentially a huge cash generator for this type of work. Habitat is a federated model, which offers a lot of strength and flexibility to the organization. The strength of Habitat is that it was started as a movement, and it is still the case with anyone involved, it's because it's a work of passion.
My first introduction to Habitat was through my college where we built a house on campus that was going to be flat-packed and delivered.
That is a huge recruiting tool. Most people have never had a chance to build anything in their lives. I was just in Florida working with college groups for something called Domestic Global Village. These kids were looking for something fun to do and some of them had never driven a nail before. We set trusses and created a little recruiting video for the Habitat affiliate down there. These kids were so pumped because at the end of the second day all of the trusses were up and half of the sheathing. You see the same thing with Women Build. A woman might say, "Well, I suppose I could sweep the floor." And I said, "No, you're going to build the walls! If you can hold a hammer and drive one nail, you can help build a wall." One of the videos we shot for Women Build summarizes that volunteer experience. We've got this great shot of a woman, who had never built anything before, patting a wall. The whole idea that there is 3D manifestation of the effort is hugely rewarding. The whole volunteer component of it is a tremendous way of engaging people in the reality of a making a real house for a real family. It is not an abstraction. Overseas, in Africa or Bangladesh, where the housing situation is very grim, it is even more apparent. Being able to build a 300-sq.-ft. stone house really makes a huge impact on a family's life. In 2011, President Carter wrote a piece for The Guardian about his involvement with Habitat in which he stated, "Decent housing is not just a wish, it's a human right."
What has a commitment to being of service to others meant to you?
I personally think that meaning in life and happiness in life come from being of service. During the 1960s there was this zeitgeist that things were going to get better. One of the things I notice in hanging out with college students now is that they don't really think it's going to get better in a vacuum. They have a very nuanced sense of how the world works and what service means. They understand the need and the importance of service, which impresses me greatly. At a certain point in life, it's not about you anymore, it's about what you can leave behind. It's not about what you can pile up while you're here. It doesn't much matter. What really matters is doing something that makes the world a better place. For a builder or renovator you can use your craft, your trade, your passion to make life better for somebody. It makes you feel like you are doing something worthwhile in life. Everybody that has been involved in Habitat has always said, "I get more out of it than I put into it."
Has the adoption of sustainable building been at a snail's pace or a sprint?
It's been a snail's pace. Maybe a relatively fast snail. I think green building is very misunderstood. My first year on the show, 1989, there was a barn in Concord, Mass., that we did. Ted Benson built the timber frame. But then we also had radiant-floor heating, SIPs, a boiler with indoor/outdoor modulation, a heat-recovery ventilator called a heat exchanger, and state-of-the-art windows. But it was, for all intents and purposes, a green building. It was as green as we would build it now.
The Europeans have always been ahead of us in terms of energy efficiency, because energy has been much more costly there. "Green building" is a new term. We called it "zero-impact building" or "net-zero building" or "sustainable building." There were a bunch of different words for it, but green building came along in 1993 when the USGBC was formed and helped promote the term. And when I did Renovation Nation on Planet Green, I did two years of green buildings all over the country. At the end of it all, I sat down to try to figure out what green building is, so that I could explain what it is and is not. Putting up a few solar panels doesn't mean a building is suddenly green. I came up with five rings or bubbles of green: energy, workmanship, materials, health, and design. Energy is pretty self-explanatory, but you want a balance. In an ideal building, you generate as much energy as you use, which is completely attainable now. Reducing the energy load of the building as much as possible gets you way down the road of green building. Materials are a big bubble. It's everything from the impact of materials expressed in its carbon footprint: where does it come from–how is it mined or quarried or logged or processed–or how far is it transported. Impact also includes the social impact of products that are manufactured under unethical labor practices. And then there is the environmental impact of a product at the end of its cycle, what does it take to recycle it? At one point Lowe's and The Home Depot were trying to quantify how green their supply chains were. Health relates to indoor-air quality, which is everything from radon to radioactivity. And design is what ties everything together.
Would you share a bit about concerns that are specific to the Boomer generation?
Boomers are active and don't want as much stuff. They want to close the door and get on a plane to go to Christmas Island or go fly fishing or whatever they are going to do. Paris or New York. Boomers, in general, got their first house, and then their second house, and so on–gradually getting larger and larger until their kids were through college, and–to the extent that they are out now, looking to retire and can sell their house–they are not looking for another large house. They are looking for something small, which is not to say cheap. They want high-quality finishes and design. Most people aren't going to put a Wolf/Sub-Zero package in their kitchen. It is ridiculous to spend as much for a refrigerator as for a used car, but the fact is, when a space is small, everything is in your face, so you want it all to be of high quality–it doesn't have to be ultra-high quality, but, from a tactile point of view, the space is nice to be in. There is plenty of information out there from Sarah Susanka to the tiny-house movement. One of the things that This Old House and Rennovation Nation did was say "Look, this what you can do and this how you can do it, you can put together a kitchen that's perfectly functional at 10×14, and you can live in 1300 sq. ft." You see it. You need a guide to help you navigate all the decisions that are involved in building what I call the "64 House," based on the Beatles song "When I'm 64." I'm not there yet, but I'm getting there! But the 64 House is a different kind of house than a family house or a starter house.
You know, all of this has changed now with the millennials. My son, who grew up in a renovation, is not as locked into the notion of rushing out and buying their first house. Partly because they have watched their parents struggle to hang on to their houses, and partly because of their employment situation is far different, and probably because houses are really expensive now.
And the national average for house size is over 2500 sq. ft., which doesn't reflect the shifting values of these demographics.
Going back to your original question about how quickly has green building been adopted, I think it has been really slow. With the run up in energy prices in the 1970s. It's all driven by cost. It looked like we were going to make some progress then, but then we didn't. Certainly in terms of renewables. Renewables came and went and nobody talk about them through the whole of the Reagan years and really haven't since. There is a concerted effort to discount the viability of renewable energy. It's been slow. The value of an energy-efficient house that is healthy, has good workmanship, and so on–all those five bubbles–we don't put a high value on that. We put a high value on whether it has a screening room or crown moldings. So, I think the whole green-building thing got off on the wrong foot early on when "all things green were cool and groovy."
To me, the reason to make a green building is that they're less expensive, they're better buildings, and they're healthier. I used to get asked all the time, "Doesn't it cost more to build green?," and the answer is that "it depends on what accounting system you use." The cost of the building over its lifespan–if you built it well according to all the energy-efficient systems that are cost effective–is going to be lower that if it is not built to those standards. Built environment in the United States uses 48% of our energy and contributes about the same in green-house gases. I mean, that really is the low-hanging fruit. If you take half of the energy use out of the built environment that's huge.
What constitutes strong design?
It's always a good idea to use a design professional, especially if you are building for yourself. The reason is that when we design for ourselves, we are wired to take the path of least resistance over what makes for a stronger design. I think scale is something that's really important. There is something to be said for what the Greeks figured out with the Golden Mean and proportion. I remember there was a project on This Old House that we worked on with architect Jeremiah Eck, and he talked about varying ceiling heights–where the entry is low and then gradually the space unfolds in this constant play with scale. And that is all the province of a good design professional.
From a carpenter's standpoint, you also want to keep things very simple. Making sure all the work is very crisp. The human eye picks up, however consciously or subconsciously, subtle imperfections and discontinuities. Even though they might be minor, they all equate to your overall experience of space. For example, making sure trim details are aligned horizontally throughout the house. The architect may or may not spec that stuff, but a good finish carpenter would be aware of it. Every house no matter how well built it is will require you to hide certain discontinuities. You will have to make certain kinds of choices and know which lines will jump out and which ones won't. That takes time and awareness.
We did a story in Japan for This Old House in the 1990s. In temple building, they will take a tree and use the north side of it for the north side of the temple and use the south side of the tree for the south side of the temple–keeping the orientation of the tree the same as it was in nature. They wouldn't just slap things up. The thought is that the human intention flows through the structure, and you feel it. If you believe that human endeavor can flow through inanimate objects, and be picked up by other human beings, the love and intention you put into it comes through.