---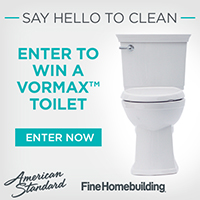 ---
Enter our Sweepstakes for your chance to win a American Standard VorMax toilet.
---
You might think there's only so far you can go, performance-wise, with a traditional gravity-fed toilet. But ever since the 1990s, when the EPA capped flushing force at 1.6 gallons per, and even more so recently, with the introduction of high-efficiency and ultra-high efficiency models, manufacturers have been tweaking their toilet designs in the pursuit of better performance. So over the years we've been introduced to glazed trapways, wider flush valves and super-siphons, among other improvements. Recently there's a new spin, literally: the single-hole jet flush.
American Standard incorporates this flush method on its VorMax toilets, introduced this spring. The VorMax eliminates conventional rim holes—along with the conventional rim, for that matter—in favor of a single opening that releases a jet of water at the top of the bowl. This concentrated burst, the manufacturer contends, is more effective at sweeping away detritus on the surface of the bowl than the multiple rim holes of most household toilets. It's an approach similar to that used in Toto's Double Cyclone flush system, introduced a few years ago, though the Vormax employs one jet rather than two.
Using only 1.28 gallons per flush, the VorMax falls into the HET (high efficiency toilet) category, and is certified under the EPA's WaterSense program. It's available in four models, each sold by a different retailer. Small stylistic differences separate the Optum (available at Home Depot, $288) and the Estate (available at Ferguson, $499 to $625); likewise the Esteem (available at Lowes, $358) resembles the Heritage (available at independent showrooms and priced similarly to the Estate). All have elongated bowls, a 16 ½-in. high "Right Height" seat and an EverClean antimicrobial surface to inhibit bacterial growth and make cleaning easier. Installation is simplified as well; the Optum and the Esteem come with an EZ-Install kit that features nuts that tighten by hand and caps that actually fit over the floor bolts.
The VorMax Optum is available at Home Depot and includes an EZ-Install kit.
American Standard's new VorMax toilets use a redesigned flushing system.
The VorMax (left) cleans the bowl using a single, strong jet of water, rather than the rim holes found on a typical toilet (right). 
Similar but more upscale than the Optum, the Estate is available exclusively at Ferguson plumbing showrooms.