Design
Project Gallery: The Ranchero
Located in a subalpine meadow in Washington State's Methow Valley, this 1600-sq.-ft. house was designed by architect Tim Hammer. A four-season vacation home for an active Seattle family, it's energy efficient, environmentally and aesthetically suited to the area, and almost maintenance-free. The main building includes an open kitchen, a dining and living room that opens to a large covered patio, and three bedrooms, two baths, a small office, and a laundry room. Perpendicular to the living-room corner of the main building, a smaller building houses a ski-wax room, a sauna and shower, and a woodshed. A covered walkway links the two structures.
Hammer wrapped most of the house with a concrete skirt to protect it from heavy snow accumulation in winter (average annual snowfall is 120 in.) and water damage from spring thaws. The concrete is complemented by a simple material palette: walls of highly durable, low-maintenance Corten-steel siding, and aluminum-clad windows and doors. To help shed snow and rain, the roof slopes from a height of 13 ft. at the outer edge of the covered patio to 10 ft. on the south side of the house. Steel columns installed both inside and outside the house support the roof during heavy snowfalls.
The interior features regionally crafted finish details. The bright white ceilings throughout are low-maintenance aluminum panels, and the floors are troweled concrete treated with a polyurethane sealant. To accommodate the homeowners' request for no paint, Hammer used integrally colored fiber cement panels on the interior walls. In the kitchen and entry area, these panels were clad with black hot-rolled steel. Cabinetry and casework is clear fir. In the kitchen, Hammer topped the custom cabinets with Richlite Black Diamond composite counters.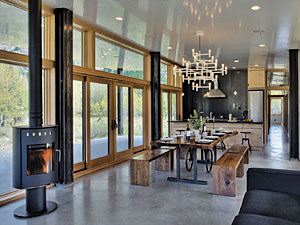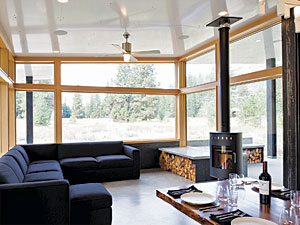 Clean lines, practical design
Sliding doors on the dining-area side of the island allow items to be accessed from either side. The stainless-steel European-style wall-mounted range hood by Vent-A-Hood and the 24-in. energy- and space-efficient Liebherr  refrigerator/freezer compliment the blacksteel walls. A rectangle of black steel was bent to create a storage shelf above the bench in the entry.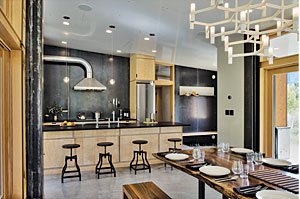 Architect Tim Hammer, CAST Architecture, Seattle, castarchitecture.com
Contractor Phil Dietz, Lost River Construction, Winthrop, Wash.; lostriverconstruction.com
Structural engineering Stoney Point Engineering, Bellevue, Wash.; stoneypointengineering.com
Dining table and benches Joe Burmeister, Burmeister Studios, Seattle, burmeisterstudios.com
Photographs Stefan Hampden, courtesy of CAST Architecture