What's the Difference: Linoleum vs. Vinyl
If you're looking for inexpensive flooring, especially in a potentially wet area such as a kitchen or bathroom, you're probably going to consider linoleum and vinyl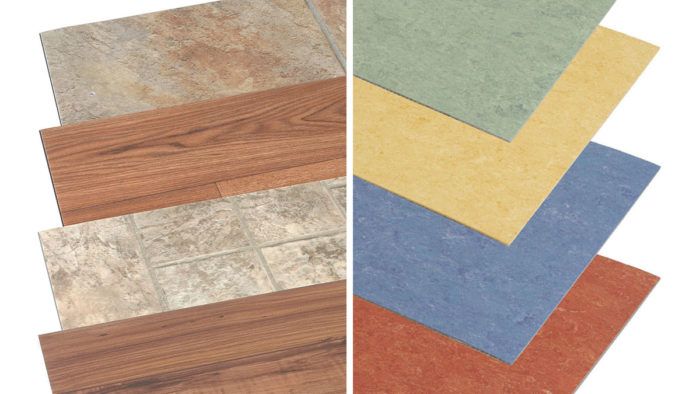 Flooring options abound—even the options have options. But if you're looking for inexpensive flooring, especially in a potentially wet area such as a kitchen or bathroom, you're probably going to consider linoleum and vinyl. Although the terms are often used interchangeably, these materials are not the same. Linoleum and vinyl fall into the category of resilient flooring. According to Michele Zelman of Armstrong, which makes flooring products out of both materials, resilient flooring means that it can retain its shape. It's forgiving under foot, and it may not suffer a permanent dent when a heavy object is dropped on it. Linoleum is more often found in commercial settings while vinyl is found in numerous residential and commercial applications. Both materials are available in sheet and tile form.
Linoleum
First patented over 150 years ago, linoleum is an older product than most people realize, and like many innovations, it was discovered by accident. English inventor Frederick Walton observed how a solid but flexible film formed on top of linseed-oil-based paint. He eventually found it to be a perfect floor and wall covering. Since linseed oil was the primary component, Walton called his new product linoleum.
Linoleum is made from all natural and biodegradable materials. In addition to linseed oil, it includes pine rosin, limestone, cork flour, wood flour, jute as the backing, and coloring pigments. Its color goes through to the backing, so scratches don't readily show. Homeowners increasingly are selecting it as a green material that is relatively inexpensive.
Linoleum must be installed over a clean, smooth, and level surface, as imperfections in the floor can cause bumps. If the surface can't be smoothed, an underlayment may be needed. Linoleum is cut with a utility knife or a heavy-duty curved linoleum knife. Typically, it's secured with flooring adhesive, and depending on manufacturer specifications, a 100-lb. roller may be used to promote strong adhesion. Seams on some products can be heat welded. Rigid click-together tongue-and-groove tiles are also available that install over a thin foam underlayment without any adhesive or fasteners. These tiles typically are cut with a jigsaw.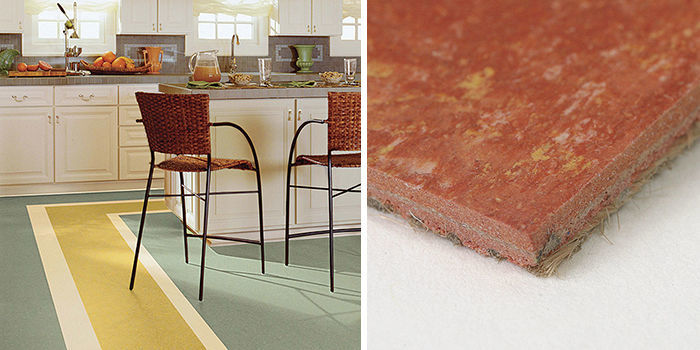 Linoleum isn't as flexible as vinyl, and it is more difficult to cut. There are also fewer color options with linoleum, and the material isn't used nearly as widely as vinyl. New linoleum also has a temporary yellow cast called bloom that eventually disappears when exposed to light.
Linoleum requires only basic routine care such as sweeping and mopping with a product-specific pH-neutral cleaner, but the flooring must be treated with a sealer periodically. Armstrong cautions against the use of off-the-shelf cleaning products because they may have high pH levels that could damage the surface. Linoleum is more susceptible to water damage than vinyl. Armstrong doesn't recommend it be installed in areas where humidity and moisture are likely to be high, such as a bathroom or a laundry room.
Cost
Tile – $4 to $10 per sq. ft.
Sheet – $23 to $50 per sq. yd.
Vinyl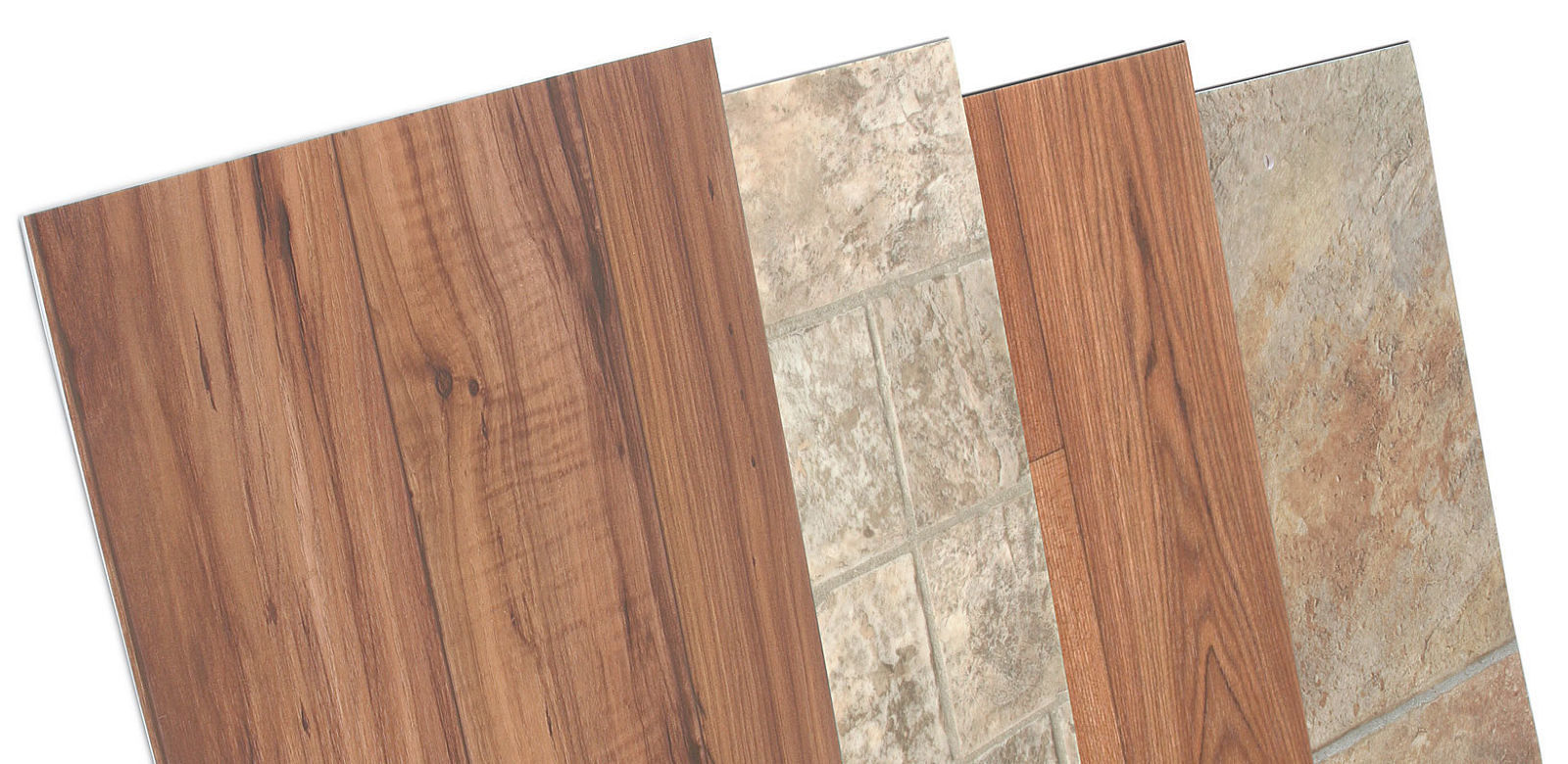 Vinyl was also discovered accidentally. Waldo Semon created it in the late 1920s while attempting to develop a glue for bonding rubber to metal. Today, vinyl is, of course, used in a huge variety of applications.
While linoleum is all natural, vinyl is a synthetic product made with a variety of toxic chemicals, primarily polyvinyl chloride (PVC) resin. Sheet vinyl flooring also contains phthalate plasticizers for flexibility. Its chemical makeup, and potential health issues associated with  phthalates, prompts some green buildings to avoid vinyl flooring completely.
Vinyl flooring is available in a wide variety of color and pattern options. Low-end vinyl flooring is quite inexpensive, but luxury vinyl flooring (LVF, or LVT for tiles) is a higher-quality version of the product.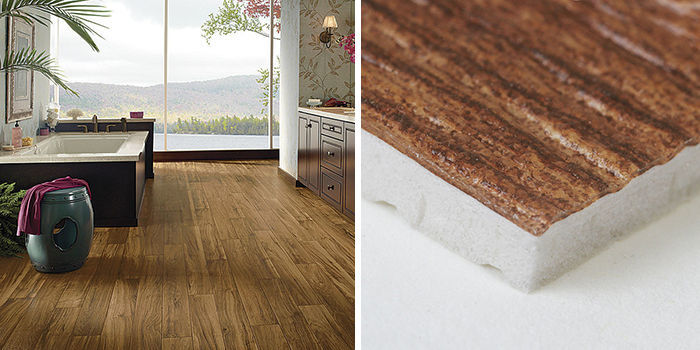 Like linoleum, vinyl flooring is available in sheets and tiles that get installed with flooring adhesive. A 100-lb. roller is often used, and the seams on some products can be heat welded. There is also a large selection of self-adhesive peel-and-stick tiles. Vinyl flooring is cut with a knife or shears, and since it generally is thinner and more flexible than linoleum, it's easier to cut.
Vinyl's color and patterns are printed, which allows for a tremendous variety and keeps costs low. It also means that deep scratches may show, since the color and patterns don't always go through to the backing.
Vinyl flooring requires no special care. In most cases, a mild cleaner is recommended by the manufacturer.
Cost
Tile – $1 to $10 per sq. ft.
Sheet –  $7 to $45 per sq. yd.
Product photos: Dan Thornton. Installation photos: courtesy of Armstrong.