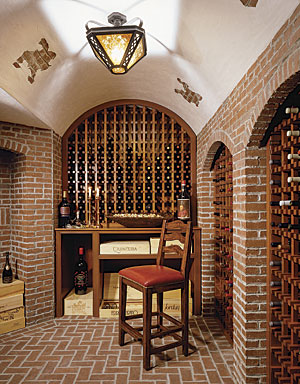 Archaeological evidence tells us that humans were enjoying wine as far back as 6000 B.C. A perishable product, wine will soon spoil if exposed to extreme fluctuations in temperature or humidity. When properly stored, however, wine not only will maintain its quality but may actually improve as it matures. Our ancient ancestors discovered this and so created the first wine cellars in cool, dark caves, where their wines were protected from harsh sunlight and temperature variations. Eight thousand years later, we're still enjoying wine. And while most experts recommend for both short-term storage and long-term aging that wine be kept at between 50°F and 59°F, we no longer need a nearby cave in which to store that extra one or two—or few hundred—bottles. Today's wine aficionados have both passive and active options for storing their collections of fine wine. Passive wine cellars include naturally cool and humid caves as well as man-made earthen cellars without added systems to control the environment. Active wine cellars have monitoring and cooling systems, artificial humidifiers, and seals.
Bottles and Bricks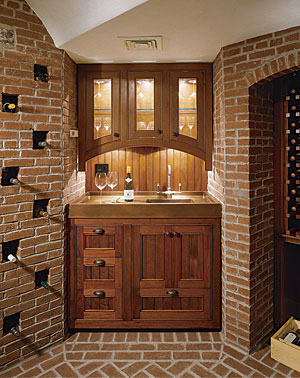 A true wine cellar, this 12-ft. by 16-ft. temperatureand humidity-controlled wine storage space was included in the original design for the lower level of a new home on New Hampshire's Lake Winnipesaukee. The cellar was planned as a space in which to enjoy being around the bottles of wine and to relate the tale of a bottle's history before uncorking that bottle with friends and family. The wine racks built into each arched brick niche can accommodate approximately five cases of wine. Niches not outfitted with racks can hold up to twenty cases. Although not structural, full bricks were used to create the niches in order to provide the desired detailing and Old World ambience of the cellar. Recesses incorporated into one of the brick walls creates additional space for wine storage and serves as an interesting design element. The custom wet bar is built of Honduras mahogany. It is topped with a custom copper counter and has an integrated drain board and sink for washing glasses and catching errant wine. The gently curved bottom of the wine-glass storage cabinet above the wet bar complements the arched brick niches. The cabinet's glass-paneled doors display wine glasses at the ready for an impromptu tasting.
 
Architect Frank Wardley, Pitman & Wardley Architects, Salem, Mass.; pitmanandwardley.com
 
Cabinetry Mark Welling, Ipswich Cabinetry, Ipswich, Mass.; ipswichcabinetry.com
 
Photographer Brian Vanden Brink, brianvandenbrink.com
Media and Merlot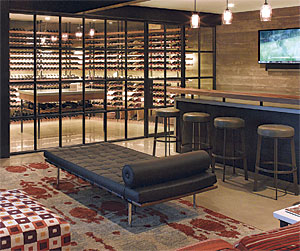 Adjacent to the media lounge and bar in this finished lower level is a wine room with about 200 sq. ft. of storage space for red wine and a separate 30-sq.-ft. chamber kept cooler for white and sparkling wine. The custom table in the center of the room for opening and tasting wine also has a storage area for magnums. The room's climate is controlled by a ducted minisplit system located above the white-wine storage space. Compressors are located in the mechanical room. Before designing the room, the architects met with a wine-storage consultant to refine assumptions about the cooling requirements and optimum bottle angle and spacing. They also worked with a steel fabricator, cabinetmaker, and electrician. Mockups were made to test various bottle sizes and storage options before settling on the final design. The wood slats that hold the bottles are made of unvarnished laminated mahogany. The steel supports were detailed to hide their floor and ceiling fasteners and to conceal the wiring.
 
Architect Mark Larson, Rehkamp Larson Architects, Minneapolis, rehkamplarson.com
 
Builder Hagstrom Builder, Lake Elmo, Minn.; hagstrombuilder.com
 
Interior design Baker Court Interiors, St. Paul, Minn.; bakercourtinteriors.com
 
Photograph Ken Gutmaker, kengutmaker.com
Wine-and-Dine Room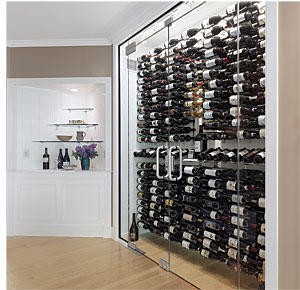 When you have so much lovely wine to share with your guests and every bottle has a story, why hide it away in the cellar? That was the thinking of the homeowners and collectors who chose to incorporate this 8-ft. by 9-ft. glass-fronted wine storage unit along one wall of their dining room. The unit is 2 ft. deep, can accommodate approximately 450 bottles of wine, and is temperature and humidity controlled.
 
Storage design Cliff Deetjen, Peregrine Design Build, South Burlington, Vt.; peregrinedesignbuild.com
 
Lead carpenter Jeremy Ross, Peregrine Design Build
 
Photograph Susan Teare, susanteare.com
Bordeaux in the Barn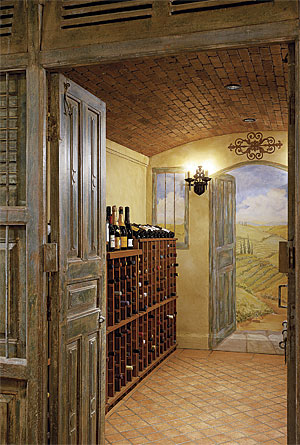 This wine cellar is located in a circa-1760 Massachusetts dairy barn now used for entertaining. The homeowners enjoy inviting their guests to the cellar to select a bottle of wine to accompany dinner. The racks in the 10-ft. by 16-ft. room can store approximately 50 cases of wine. Sections of the racks were fabricated with boards salvaged from another old barn on the site. The vaulted brick ceiling was inspired by the arched openings of the large masonry chimneys original to the home. The trompel'oeil mural's design was the outcome of a discussion between the homeowners and the artist. The antique sconces and tile were sourced by the builder, who also purchased the entry door from a salvage yard. The door's shuttered sides were sealed with glass for interior climate control. The mechanicals for controlling the temperature and humidity are outside of the room and ducted into the space through black cast-iron grilles.
 
Builder Jeffrey W. Adams, J. W. Adams Construction, Concord, Mass.
 
Mural George Paicopoulos, Fine European Painting, Mendon, Mass.
 
Photograph Brian Vanden Brink, brianvandenbrink.com