China Discourages "Weird" Architecture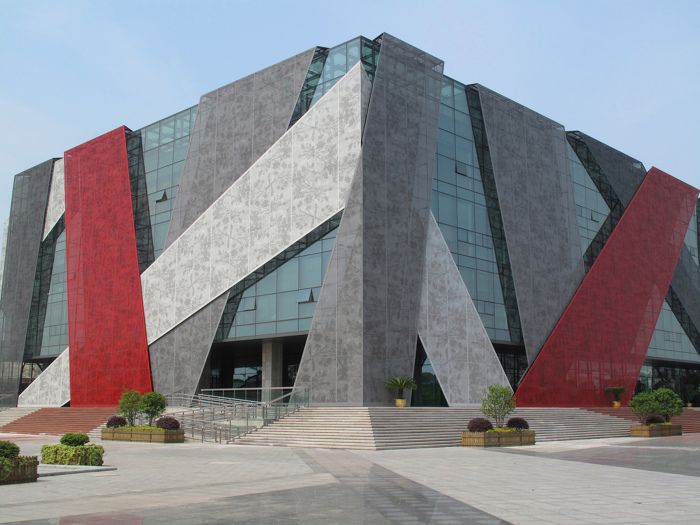 Unhappy with the direction modern urban architecture has taken, Chinese leaders have prohibited the construction of big, strange-looking buildings that are too obvious about their foreign design influences.
The New York Times reports that the State Council, China's cabinet, and the Communist Party's Central Committee have issued a directive that seeks to reel in projects that are "oversized, xenocentric, weird" and instead to build designs that are "suitable, economic, green and pleasing to the eye."
China already has three reproductions of the Arc de Triomphe, 10 White Houses, and an Eiffel Tower.
President Xi Jinping called for an end to "weird architecture" in 2014, and the People's Daily later predicted that would spell the end to modernistic designs like "Giant Trousers," the nickname for the building in Beijing that houses China Central Television headquarters.
Chinese leaders have followed up with this formal directive. The Times says that experts expect stricter design guidelines for public buildings that favor functionality over wild flights of architectural fancy. "We shouldn't go overboard in pursuit of appearances," said Wang Kai, vice president of the China Academy of Urban Planning and Design.
The move comes two months after a conference called to address problems associated with China's urbanization. More than 56% of the country's population of 1.3 billion now lives in urban areas, up from 18% in 1978 when the last conference of its kind took place.
Patrik Schumacher, director of Zaha Hadid Architects, which has designed some of Beijing's modernist buildings, said that the directive is an attempt to make the country more reliant on its own architectural talent and prevent foreign design firms from trying out their brash ideas on Chinese soil.
In addition to pushing more-conservative building designs, party leaders also called for an end to gated residential communities. Those already built will gradually be opened to traffic, with the goal of reducing traffic congestion.
Read more: http://www.greenbuildingadvisor.com/blogs/dept/green-building-news%2A#ixzz411TODUJy 
Follow us: @gbadvisor on Twitter | GreenBuildingAdvisor on Facebook