Kohler's Intelligent Toilet Might Make You Brag About Your Bathroom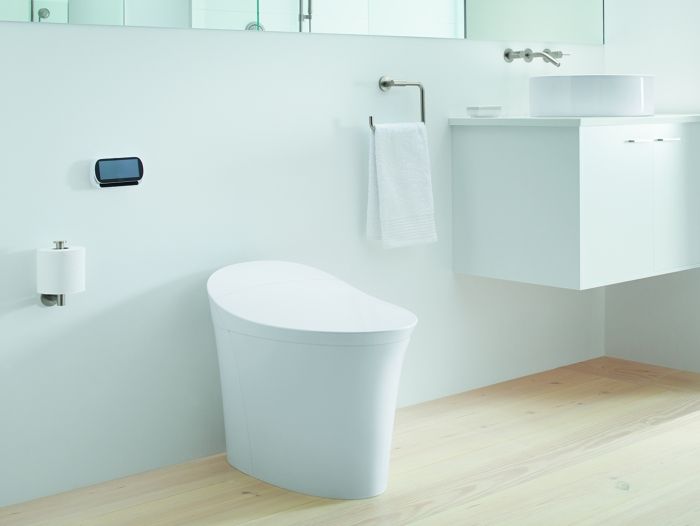 Will Americans finally embrace the benefits of high-tech commodes? 
Kohler seems to think so with their introduction of the new Veil Intelligent toilet, the newest model in the sleek, modern Veil collection. The Veil Intelligent toilet boasts comfort and hygienic features that many Americans are unfamiliar with but that a majority of Japanese people won't live without. This includes a heated seat; a bidet wand with adjustable water temperature and pressure; warm-air drying; UV self-cleaning functionality; and even an LED nightlight in the bowl. All of this is packed into a one-piece unit with a smooth, ergonomic profile.
Product Breakdown
Compact, ergonomic, and easy-to-clean design
Auto flush with water-saving eco-flush modes
Touch-screen wall-mounted remote control
$3,206.25 for Veil Intelligent toilet ($900 and up for the original Veil wall-hung model mentioned below)

Affordable alternative
If you like the idea of an easy-to-clean modern toilet but you're not ready to shell out a few grand, you can opt for the original wall-hung Veil toilet. Two wall-mounted push buttons operate the eco-flush feature, and everything but the toilet is hidden in the wall behind the bowl. With the optional bidet seat you can get most of the features of the new Intelligent model, but you won't save much on the price, so you might as well buy the new one.
Don't be shy
Though these high-tech toilets are relatively new to the U.S. market, most Japanese homes and public places have had heated bidet seats for decades. Japanese manufacturers have attributed the slow adoption by Americans to the assumption that we just aren't comfortable talking publicly about what's behind our bathroom doors. Do you think they're right? If so, are you ready to put your shyness aside to try something that millions of Japanese people can't live without? I know I am.
If you want more comfort--and more gadgets--in your bathroom, the Kohler Veil Intelligent may be the toilet for you
The bidet in the Kohler Veil Intelligent toilet has settings for water temperature, pressure, and spray pattern. Plus it's self-cleaning with a UV filter.
Mount the wireless touch-screen remote control on the wall or on any nearby surface for easy adjustment of the numerous high-tech features, including the LED nightlight.
If you're not ready to shell out a few grand for your next commode, Kohler still sells their less-expensive wall-hung Veil toilet, starting around $900 Though the bidet seat is an add-on that will push the price up close to that of the new high-tech model.