How-To
Build a Budget-Friendly Shed
Affordably get ample storage space and classic styling by using simple construction details and traditional materials.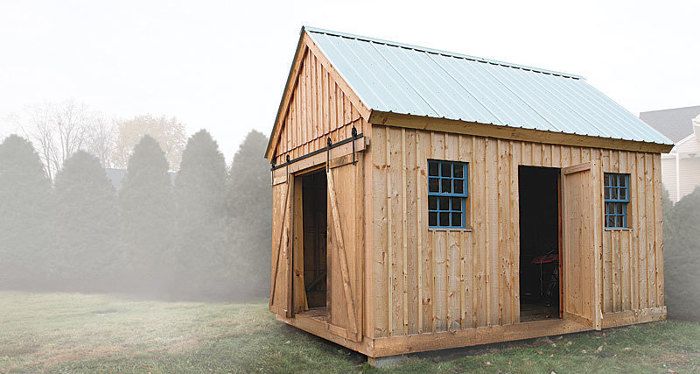 Synopsis: Can a shed be stylish and affordable? That was the question that spurred the design of this traditionally styled backyard storage shed. The answer is yes, but only by spending more time in the design phase, choosing and using materials creatively, and being willing to put in some extra time and effort. The results are a shed that not only looks better than most and has plenty of storage but that achieves these goals while sticking to a relatively modest budget.
Call me a building snob if you want, but I think most sheds are ugly. The response when I say this to people is usually, "Yeah, but who cares what it looks like if it gets the job done?"
In some ways, I agree. I have no problem with an ultracheap or even downright homely storage shed that is being built just to keep tools and equipment out of the weather. But why settle for an oddly proportioned, poorly built shed that isn't durable, is adorned with appliques that don't match the main house (or even the region of the country the shed is located in), and doesn't offer enough storage space or the right type of access to suit its purpose—especially when even the smallest of these lackluster factory-built sheds cost thousands of dollars?
I challenged myself to design a shed that provides lots of storage but that can be built for a low price. To meet the needs of most homeowners, a shed must be bigger than 8×10 or even 10×12, so I set my sights on a 10×16 structure. For the budget, I set a goal of $2000, which I knew would be difficult to meet. The final challenge: The shed had to look better than the low-pitched, cheaply clad, cookie-cutter models being sold at most big-box stores and shed retailers.
"Look better" is, of course, subjective. My personal taste leans toward a traditional style, so I took cues from tobacco barns and other New England farm-style outbuildings in my area while relying on as few obviously modern building materials as possible. It may sound crazy, but I wanted to enjoy the interior of my shed as much as the exterior, and as long as it would keep out rain and snow, I didn't mind it being leaky enough to let in streaks of sunlight. To that end, I decided to forgo the convenience and strength of sheet goods and used rough-sawn, knotty, 1×8 spruce boards for many parts of this shed, leaving them unfinished so that they eventually would weather to a pleasant gray. If you want to streamline the process and aren't concerned about achieving a true old-fashioned look, then by all means go for OSB or plywood. It probably will save you money compared to the solid-wood alternatives I sourced, not to mention that it will simplify the wall bracing. Some panel goods, such as T1-11, even double as finished siding.
Speaking of simplicity, it's good to set reasonable expectations for a project like this. Every project boils down to a balance between time, money, and quality. This build will save you some money, but you won't be able to crank it out in a couple of days. I wasn't trying to turn a profit here, so when I could shave off a few bucks by putting in some extra legwork and using slightly warped or otherwise wonky materials (such as the 1x8s), I was perfectly willing. Likewise, if I could have fun making my own barn-door hardware to save $50, that was a win-win. In fact, aside from the windows that I picked up years ago from the side of the road (you can buy equivalents from betterbarns.com for about $100 apiece), I built this entire project using materials from my local big-box store.
Magazine Extra: A SketchUp model of this $2000 shed
For more photos and details, click the View PDF button below:
View PDF