Design
Little House on the Ferry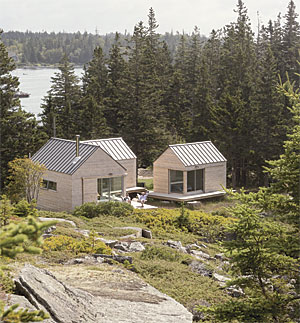 Good things come in threes. There is a total of 890 sq. ft. of living space in the three cabins. The largest cabin measures 16 ft. by 26 ft. and houses the living, kitchen, and dining areas. Each of the other two cabins measures 12 ft. by 18 ft. and has a private bedroom and bathroom.
Located on an island in Penobscot Bay, Maine, this trio of seasonal cabins connected by a series of cedar decks and walkways provides a cozy yet private place for guests of the family who owns the summer home next door. Built on piers, the three small structures hover over what once was a granite quarry. In order to minimize the impact of building on the delicate recovering vegetation of the quarry, the cabins were constructed using black-spruce cross-laminated timber (CLT) panels. Cut to the exact building form, the panels were used to create each cabin's floor, walls, and roof. They were prefabricated in Quebec, then shipped via truck and ferry to the island. Using prefab panels reduced the construction impact on the site, and the structures went together over the course of a few days instead of weeks. Because the panels also provided a finished surface on the cabins' interiors, interior work was minimal. Locally sourced unfinished Eastern white cedar was used for the exterior siding, trim, and sliding exterior panels. The cabins' standing-seam metal roofs are painted dark gray.
Mirror, mirror on the floor. The homeowner selected a mirrored toe kick to give the illusion that the Ikea white laminate kitchen cabinets float above the floor. For durability and even more shine, the floor was painted with silver-gray polyurethane marine paint.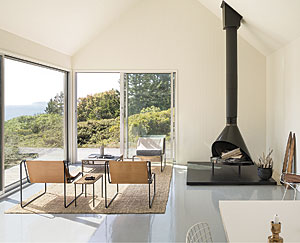 A plan for chasing away the chills. With the cabins intended for use only during the warmer months, a vintage Preway fireplace provides heat for the main cabin on cool days and evenings.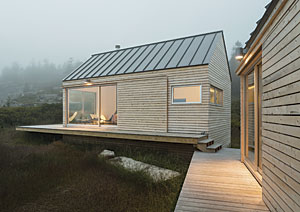 Snug no matter what the weather. Each cabin has sliding exterior panels to protect the glass windows and doors when the cabins are closed for the season, and from severe weather in the summer. When necessary, electric-resistance heat in each bathroom warms the sleeping cabins.
Architect Riley Pratt, GO Logic, Belfast, Maine; gologic.us
Builder C.W. Conway and Sons, Vinalhaven, Maine
CLT panels Nordic Structures, Montreal, nordic.ca
Engineering Bensonwood, Walpole, N.H.; bensonwood.com
Photographs Trent Bell, trentbell.com