Learn How Solar Friendly Your State Is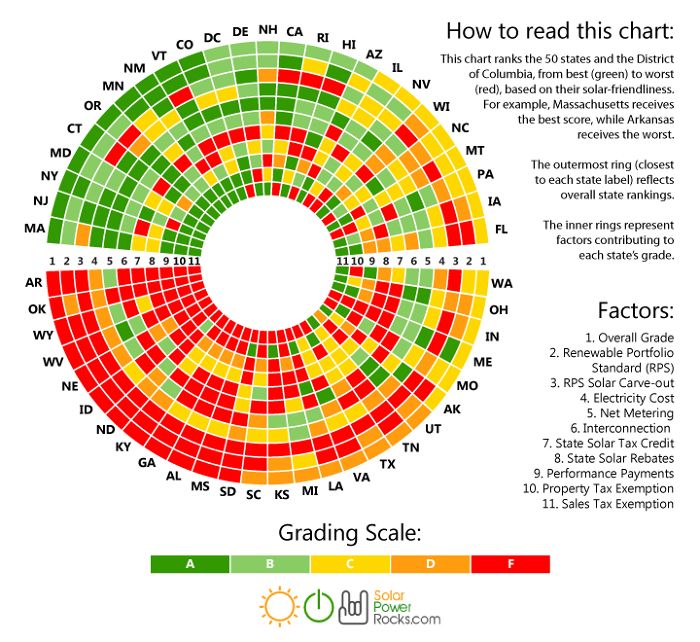 Ever wonder how solar policies in your home state compare with the rest of the country? A graphic developed by a website called Solar Power Rocks will give you the answer in just a few seconds.
The website's chart for 2016 ranks three states on the East Coast–Massachusetts, New Jersey, and New York–as the best places to invest in photovoltaics, according to a "1 Minute Read" at Fast Company's co.exist website.
Ratings are based on 11 factors, including such things as the state's renewable portfolio standard (the amount of renewable energy a state is committed to providing in its energy mix), the cost of electricity, net-metering rules, and what rebates and tax credits are available.
Color-coded grades range from A (dark green) to F (red). Massachusetts and other top-ranked states have lots of green blocks in their rankings. The top three states all earned A+ rankings, putting them in a virtual tie; seven other states earned As.
At the bottom of the solar barrel, Arkansas, Oklahoma, and Wyoming show mostly red and orange blocks.
More detail is available
If you want more detail about a particular state, the website provides it in the form of baseball-card-like summaries that show a simple payback estimate for a 5kw solar system and an estimated internal rate of return (IRR). In Massachusetts, for example, the payback is 4 years and the IRR is 30.7%; in Arkansas, count on an 18-year payback and an IRR of 3.9%.
There's also a ton of detailed analysis behind each of these cards, including the estimated upfront costs for the 5kw system, the incentives that are available, and estimates for both long-term profits and the impact on home values, plus a summary of interconnect rules.
The website summarizes solar development around the country this year as a "mixed bag."
"The prices Americans pay to install solar are the lowest they've ever been, but state incentive programs are expiring," the summary says. "Community solar is seeing more support than ever in some states, while struggling to find a foothold in others, and solar incentives for landlords are still nowhere to be seen. Electricity prices in some states have stayed high, while others (those mainly served by petroleum and natural gas generation) have seen sizable decreases in price."
The site also is a little out-of-date. The website says that solar is at a crossroads because of uncertainty over the future of the 30% federal Investment Tax Credit for solar and other renewable energy systems. Congress, however, passed an extension of the tax credit several months ago.
Solar Power Rocks describes its mission as educating homeowners about solar policy, and working to "get more solar technology on roofs." The site was founded in 2007.
Read more: http://www.greenbuildingadvisor.com/blogs/dept/green-building-news%2A#ixzz42PufE5VH 
Follow us: @gbadvisor on Twitter | GreenBuildingAdvisor on Facebook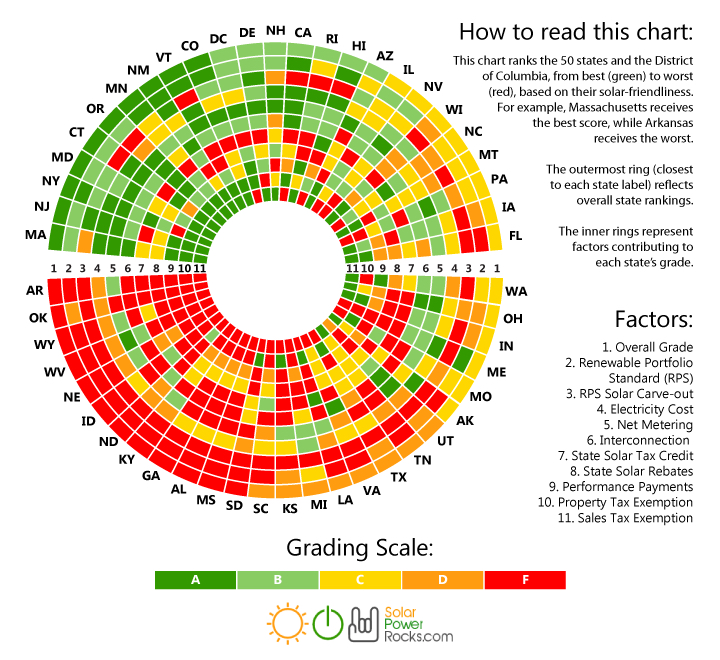 A graphic developed by a solar advocacy website shows how solar policy varies from state to state, and estimates the length of payback and return on investment for a solar array.