Truly Custom Tile Mosaics For Any Budget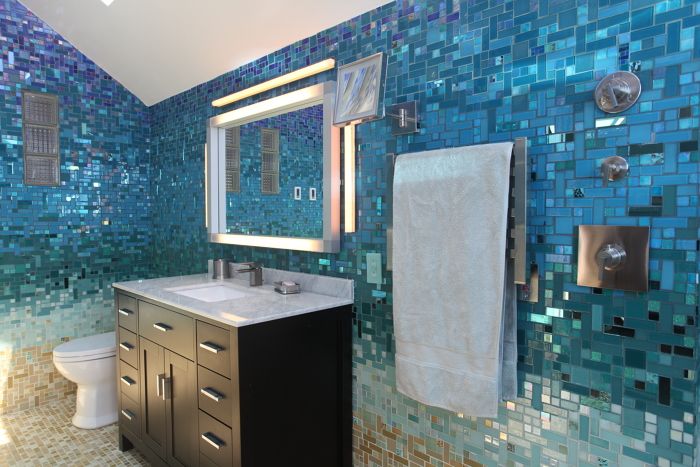 One-of-a-kind mosaics
You don't have to settle for the dozen or so different tile patterns at the big-box store when planning your next kitchen backsplash or bathroom wall. Susan Jablon Mosaics, in Binghamton, NY, has a dizzying array of individual tiles and custom mosaic patterns in almost every color under the sun. An in-house team of talented mosaic artists regularly designs new collections to meet the demands of discriminating homeowners. And if you don't find exactly what you're looking for, don't worry–just play with the Custom Mosaic Designer on Susan Jablon's website until you've created a pattern that's perfectly suited to your next tile project.
Product Breakdown
Choose from single tiles, stock mosaic patterns, or custom collections
Build your own personal pattern with the online Custom Mosaic Designer
Thousands of tile styles in stock including mirror, recycled, shell, stone, iridescent, and stainless steel
$20-$190 per sq.ft., depending on tile selection and complexity of mosaic pattern
Bring the color back
Owner and founder Susan Jablon is concerned that color has taken a backseat to neutrals in today's home-decorating market. She says that it's hard to find tiles in vibrant colors through the usual sources. People are looking for bright blues to match their swimming pools, and the deep purples they see in the flowers in their gardens. Susan and her designers want to help homeowners find affordable custom beauty to match the world around them.
Turn your bathroom into a seaside oasis with this bold Caribbean-gradient mosaic pattern 
If you can't find the exact mosaic pattern you want, contact Susan Jablon or use her online Custom Mosaic Designer tool, where you can choose patterns and tile and grout colors, and even tweak the percentage of each tile in any layout
Choose from hundreds of existing custom patterns, like this whimsical flower mosaic
Find a unique mosaic to match any kitchen or bathroom
For a clean, rich look, you can find unique individual tile styles, including mirror, recycled, shell, stone, iridescent, and stainless steel