Answer Your Door From Anywhere With a Video Doorbell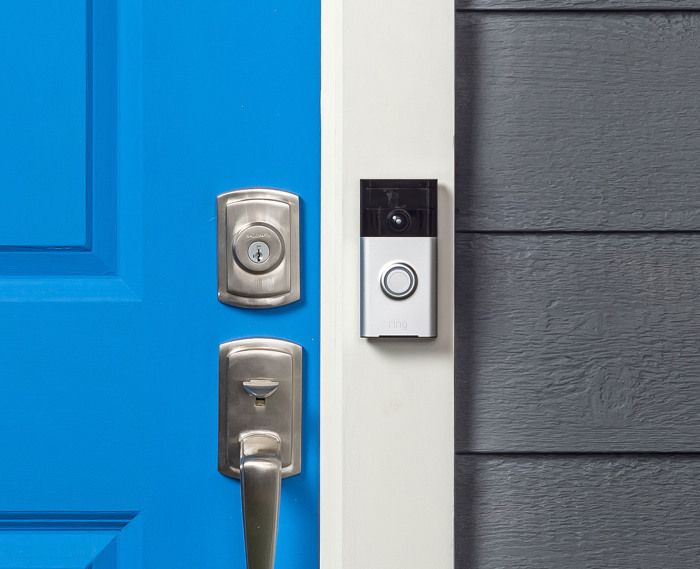 Connect a Ring video doorbell to your home WiFi and talk to visitors from your smartphone
 Whether you're away from home, or just too far from the front door to hear the bell ring, no visitors will go unnoticed with Ring's video doorbell. If the people at your door are too shy (or shifty) to ring the bell, built-in motion sensors will alert you to their presence with an app notification, and the wide-angle HD camera will stream video directly to your phone. You can even remotely greet your guests–or shoo away the door-to-door salesman–with the two-way audio feature.
Product Breakdown
Original Ring video doorbell has a 720p HD video camera with 180-degree field of vision; Pro model has a 1080p and 160-degree camera 
Available in four metallic finishes to match common door hardware; Pro model comes with four interchangable covers
Rechargeable battery on original model; Pro model must be hardwired to an existing or new doorbell circuit
Expand your doorbell system with optional remote Chime and additional Stick Up Cam
Ring original video doorbell $199; Ring video doorbell Pro $249
More features to customize your experience
 Since their introduction, Ring has been adding new functions and tweaking existing ones to make the video doorbells work smarter. While the original model has motion-sensor zones which can be turned on and off to fine tune the sensor's sensitivity, the new Pro model takes things one step further with the ability to draw your own zones and focus precisely on the paths people are likely to take to your front door. 
Ring has also added a live-view feature to their mobile apps, allowing you to see what's happening even if nobody rings the bell or walks by. You can even archive all video captured by the doorbell with an optional subscription to Ring's cloud-storage service. 
But the icing on the cake–which might only appeal to serious connectivity geeks–is Ring's partnership with the IFTTT online app-linking service. IFTTT can program Ring to turn GE Hue lights on, turn down streaming music in Spotify, or even make a note on your Google calendar whenever someone comes to your door.