How-To
Placing Concrete in the Footings
Finally some actual construciton taking place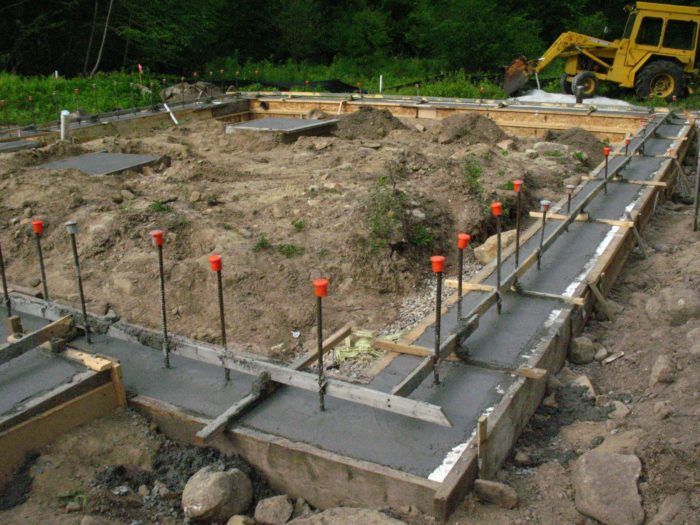 We got a late afternoon delivery on a hot dry day. I'm not a fan of adding water to the batch once it arrives, worried that doing so will reduce the strength of the concrete. We poured half of the first truck's load stiff. This wasn't a problem with the truck at the upper level.   The chute exited at a steep angle so the mix ran fine. And the driver was skilled at jockeying the end of the chute along the forms as the   concrete spilled out reducing the amount of dragging Bruce and I had to do.
Later when he repositioned at the lower level, the chute barely had any slope and the concrete wouldn't slide so the driver had to add  little water.
Luckily the front-discharge trucks had enough range with their chutes to reach along all the forms so we didn't have to hook my chute extension on.
It took about an hour to fill the footing forms. While Bruce worked the end of the chute with a small shovel topping off the concrete, I followed behind with a trowel tuning up the surface and ensuring the final level wasn't too high or low.
Towards the end of the pour it was obvious the temperature and dry air were taking a toll – the concrete was setting up fast. Still we were able to float a decent-enough surface to set the ICFs on.
I measure
d the forms precisely and rounded a few measurements upwards to arrive at 15 yards.   Not wanting to run short, I added an extra yard. But rather than sending a truck back with paid-for concrete, I prepared a driveway apron area along the street earlier in the day. With my backhoe I dug an 8 in. x 5 ft x 14 ft. area and burmmed up the soil around the perimeter. After the forms were filled we placed the remaining concrete – about 2 yards – into the excavated area. We ended up with a roughly 10 thick slab along the street. We'll likely finish the driveway with a course of crushed stone for the first few years until the filled area settles down. The concrete apron will help keep the gravel and stone from washing or being plowed into the street.