Tools & Materials
Steel Specialist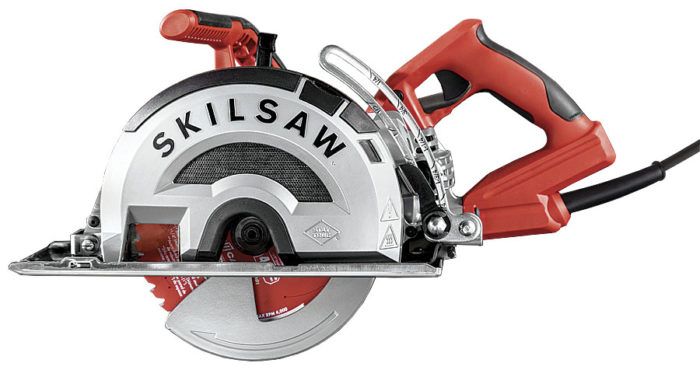 I build custom decks in Colorado. Because of a steady decrease in lumber quality and the devastating effects to wood caused by the state's dry, sunny weather, I decided to switch to light-gauge steel deck framing in 2009. With that change came the challenge of cutting the 12-ga. to 16-ga. framing material. At first, I made cuts with abrasive blades mounted in a worm-drive circular saw, but this type of blade wears down quickly. I then switched to Diablo Steel Demon sawblades, which last longer and cut more efficiently. Unfortunately, the flying metal chips went everywhere. In addition to safety glasses, I had to start wearing a face shield and welding sleeves (for keeping the hot, sharp, metal shrapnel off my arms).
Skilsaw has released a promising solution to cutting steel on the job site, and I had the opportunity to try one on several of my steel-framed decks. Dubbed the Outlaw ($169), this worm-drive saw comes equipped with an 81⁄4-in. Diablo Steel Demon blade and a metal guard that fully encloses the upper part of the blade and that is easy to remove and to empty (you will be surprised at how much debris it collects). The oversize guard somewhat obstructs the view of the blade's path, but a glass window in the guard and good markings on the saw's baseplate make it easy enough to follow a line. I especially like how you can easily retract the lower guard from the top handle to prevent the guard from hanging up on thinner material.
The saw's maximum depth of cut is 23⁄4 in., and adjustments are quick and easy to make. One downside is that this saw doesn't have a bevel adjustment. A lot of people don't think a bevel adjustment is necessary for cutting metal, but I use the feature when cutting the ends of joists that meet the band joist at an angle other than 90°, such as on clipped corners of a deck.
Overall, I like this saw very much. The handle is comfortable, and all adjustments and controls are well laid out. The saw is a little heavy (131⁄2 lb.), but it wasn't overly tiring to use. It has good power and appears to be durable, having taken a 3-ft. fall from the shelf in my tool trailer with no ill effects. Perhaps the greatest thing about this saw is that I no longer have to wear a face shield or welding sleeves when I cut steel.
Robert Shaw, a framer and deck builder in Colorado Springs, Colo.