A Modern Alternative to the Iconic Southern Porch Swing
Simple lines and a modular design make the SwingLab an elegant and fun addition to any covered porch.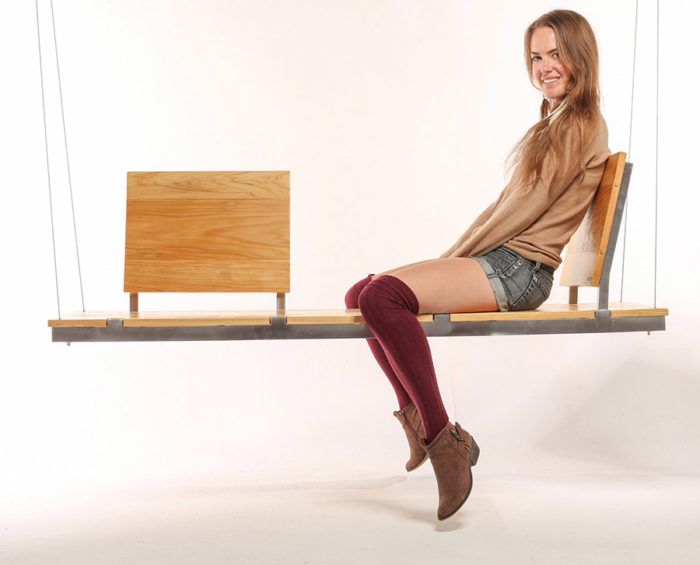 The appeal of kicking back in a gently swaying porch swing is pretty universal, but traditional wood-slat swings often don't match the aesthetic of a modern home. That dilemma is what inspired Mississippi craftsman Andy Hilton to design SwingLab, a minimalist nod to the classic porch swings he grew up with. SwingLab's slender aluminum frame and inset cypress boards create a clean and simple form that will look good anywhere and last forever, but it's the backrest design that makes the swing really stand out. The two removable back panels fit into a number of different positions by dropping into an array of square holes around the perimeter of the seat. Watch the video on SwingLab's homepage to get a better idea of what I'm talking about.
Product breakdown
the swing's total dimensions with backrests are: 18"H, 18"D, 63-½"W
cables are custom sized to suspend the seat at a recommended height of 19 inches
SwingLab is made to order and has a 4+ week lead time
$900 for current aluminum and cypress version
Future plans?
Producing and refining the current SwingLab model keeps Andy quite busy, but he said he hopes to introduce some variations on the theme in the future. Maybe we can give him some inspiration by posting ideas for new versions or details in the comments below. I'd personally like to see a family size version, or a U-shaped version, or maybe just some different backrest or armrest add-ons for the current swing design. What do you think?