Design
12 Remarkable and Inspiring Basement Remodels
These real-life examples of basements done right include media centers, fitness areas, bedrooms, bars, and baths.
Sponsored by Pole-Wrap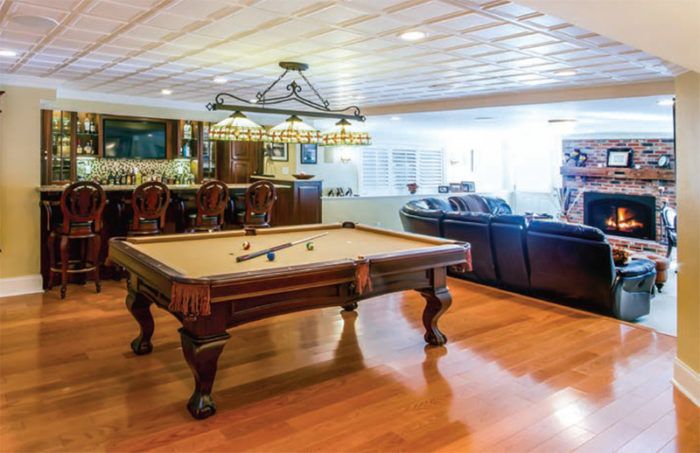 As homeowners consider how to get the most out of their houses, they look for ways to turn dreary, dank, and dark basements into fine, finished, family friendly spaces. For example, look at the project above. This basement was a 1757-sq.-ft. remodel for clients looking for a family room, a fitness area, and a recreation area. The design is enhanced by a full-height walkout, which allows lots of daylight to enter the family room. This basement had an existing perimeter drain that emptied to daylight, but there was no evidence or history of water intrusion. The foundation wall was insulated with 2 in. of closed-cell foam, while the wood-framed walkout was insulated to R-19 with cellulose.
For more photos of inspiring basement remodels, check out this slideshow.
This project tackled several problems. First, part of the concrete foundation extended 30 inches into the room on the left side, In addition, there was overhead duct work, a fireplace, a 26 inch deep HDTV, and a window extending to within 15 inches from the wall on the right side. The 250-lb TV slides out for service, and the satellite receiver is behind the TV. The unit is built from 3/4-inch maple MDF and bloodwood. The bloodwood mantle and hearth was veneered, while the accent strips between cabinets are solid bloodwood cut into 1/4-inch strips. Construction was done using a series of 27×17-inch maple MDF boxes stacked on top of each other, with a 1/4-inch gap filled with the bloodwood strips.
Source: Basement Entertainment Center
In this high-end basement remodel, a maze of wasted spaces was changed drastically to capture the following areas: The family room gained new windows and an exterior door, composite wood flooring and carpet, with rough-in for a future bar. The old brick two-sided wood-burning fireplace was covered with contemporary stained concrete, and a new gas insert was installed under the custom metal mantle. In addition, an old bathroom was replaced with a new 3/4-tiled bathroom in a new location, with cherry cabinets and granite countertops. This basement now has two bedrooms/offices with new windows, walk-in finished storage, a finished laundry room with cabinetry, and a dedicated exercise room with audio/visual features.
Source: Major Transformation
This 1960s lower-level den was overwhelmed by pine paneling; a low, cracked, textured ceiling; poor lighting; and a drab, brick-faced fireplace (right). To update the room, inexpensive MDF was split into block-size pieces and painted to mimic slate wainscot. To minimize the 30-ft.-long wall, the drywall was panelized with reveals and finished with burnished Venetian plaster. Smoked-glass tiles transform the fireplace into a focal point. A thin layer of drywall covers the old ceiling, and new lighting illuminates the perimeter (left).
Source: "Basement Finishing and Remodeling" PDF white paper.
The house has a split-level design with a 682 square foot basement recreation room. By lowering the floor of the existing basement areas and creating large open landscaped window wells, a dingy basement was converted into an additional 873 square feet of useable space. This new space became the children's bedroom area.
Source: Toronto Remodel
This basement received a tremendous transformation. The wood paneling and dated bar was removed. The bathroom was enlarged by creatively placing the new fiberglass shower unit under the stairs; it is finished off with a pin-wheel pattern tile floor with deco mosaic and bone colored toilet, sleek pedestal sink, and recessed medicine chest. The family room and bedroom received new drywall, carpeting, glass block windows, recessed lighting with dimmers, and newly painted trim and doors. This is now a warm space with room to relax, room for children to play, and a spot for guests to stay.
Source: Drab to Cheery Basement Remodel
This dated basement recreation room has been transformed as part of a "labor of love" — the builder designed the house for his parents in 1980 for their retirement, and now he has remodeled it for his own retirement. With cabinets on three sides of the room, new windows offer a lake view on the fourth side. A display cabinet was installed over the sofa. Over the far cabinets are skylight windows, which are original to the house. Flooring is cork, cabinets are clear, vertical grain fir with cambium trim, ceiling is pine with a whitewash finish. The walls were skim coated, and trim was added. There is a surround system and built in vacuum throughout the basement area.
Source: Basement Remodel
This bathroom was part of a larger project to create a multipurpose space in a previously unfinished basement. The bold design features a radically angled 135-degree wall. The entrance to the bathroom is just 4 in. wider than the 30-in. door, the left wall is 90 degrees to the door, but the right wall angles out at 135 degrees. The design allowed for a small pedestal sink on the angled wall, with a toilet and 36×36-in. shower at the far end. Three small recessed cans, and three sconces – all on dimmers — complete the lighting. Because of the rough-in for the drain lines, the toilet and shower needed to be located at the back wall of the room. The acutely angled wall creates a great deal of space where it is needed, in front of the toilet and shower, while minimizing space where it isn't needed. It also creates more space, and visual interest, in the main room. A high efficiency exhaust fan, low-flow fixtures, and LED lighting controlled by dimmers all conserve energy.
Source: Basement 3/4 Bath
This 1616-sq.-ft. basement remodel added a media room, a bar and recreation area, a fitness room with a flat-screen TV, and a large pantry at the bottom of the basement stairs for storing bulk items. The homeowners were looking for a casual environment for entertaining and a place for their three children to be with their friends. The basement was at a moderate risk level for water and moisture and required a new perimeter-drain system. In this remodel, the foundation walls were insulated with 2 in. of polyisocyanurate. A 2×4 stud wall was then framed over the rigid foam and filled with R-15 unfaced batts. Finishes in this space are casual and comfortable, and they are easily replaced if needed.
Source: "Basement Finishing and Remodeling" PDF white paper.
This lower-level transformation added 550 sq. ft. of living space to a house designed and constructed by homeowner/architect John T. Conroy. Using a contemporary design and clean lines, Conroy successfully elevated his basement from dingy dungeon to stylish great room.
Source: "Basement Finishing and Remodeling" PDF white paper.
This lower-level space was a real dog — kennel, that is — until new homeowners enlisted the design/build firm 131shapes to transform it. The media room that now occupies the space features a direct-vent gas fireplace with a contemporary-style copper and concrete surround and mantel. The bar area is outfitted with custom cabinetry and a concrete bar top. A wine-storage and hobby room, laundry room, and full bath complete the renovation and provide plenty of space to showcase the owners' eclectic art collection. Family members and guests agree that there's nothing wrong with being in the doghouse when it's as comfortable and welcoming as this basement is now.
Source: "Basement Finishing and Remodeling" PDF white paper.
This design called for a media area, a kitchenette, and a fitness area with a full bath. The remodel was considered high risk for water damage, as the space endured occasional water intrusion. To provide proper water management, a drainage membrane was placed on the interior face of the foundation walls from the mudsill down to a new perimeter drain. The walls were then insulated with 2 in. of closed-cell spray foam placed between the 2×4 stud wall and the foundation wall. An additional layer of R-15 unfaced batt insulation was placed in the wood-framed stud cavity.
Source: "Basement Finishing and Remodeling" PDF white paper.
Sometimes the primary feature of a basement remodel is utility rather than decor. This remodel has transformed a basement into a sophisticated workshop.
Source: Basement Shop