Roof Pitch and Orientation for PV
This design strives for reasonably low energy use, offset by photovoltaic panels to reach annual net-zero-energy use.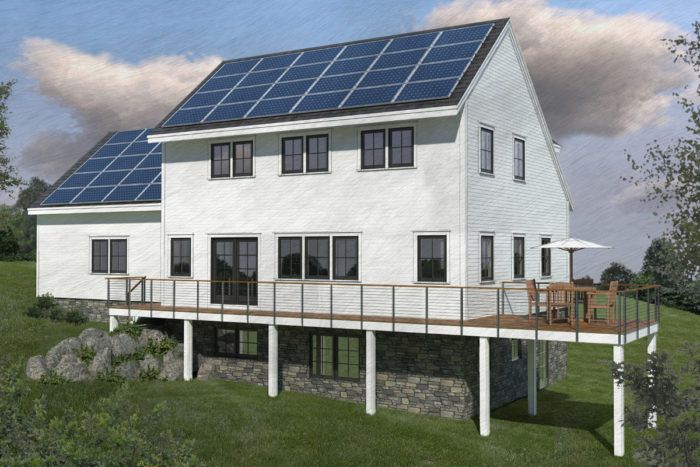 One of the main goals for the ProHOME project was to design a net-zero-ready home, meaning that all of the home's annual energy use could be offset with on-site energy generation. In our case, the energy would be generated with photovoltaic (PV) panels on the roof.
There are two ways to approach design on a project with that goal. You can design the most energy-efficient home you possibly can, and then cover your resulting energy needs with a small PV array; I just visited a Passive House I helped design that used that approach and only needed a 4kw array to cover all of its annual energy needs, with two years of no energy bills (other than a $10 connection fee) as proof.
The other approach is to build a very good building envelope and use low-energy equipment, but before going all out on efficiency, to compare costs with renewable-energy generation. That is the approach we took on the ProHOME, using BeOpt, an energy modeling program developed by The National Renewable Energy Laboratory in support of the U.S. Department of Energy Building America program goal to develop market-ready energy solutions for new and existing homes. We also looked at data from PVWatts.nrel.gov to quickly compare different options; see the spreadsheet attached below.
Of the many variables we considered during the design process, one of them was to maximize roof area on the south. Instead of reducing the energy use to an absolute minimum, we were going for reasonably low energy use, offset by PV panels to reach annual net-zero-energy use. Once we knew how many panels the roof could hold, we checked to see how that compared to what the building was modeled to need.
As we settled on a design, we found space for 40 panels, at the typical size of 39 in. by 65 in. At a standard output of 260w per panel, that would be a 10.4kw array. On the final design, we shrunk the garage, bringing the total count down to a 36-panel array, but higher wattage panels are available to make up for the difference.
ProHOME final south elevation
At its lowest point in winter, at the ProHOME location, the sun is 25° above the horizon at midday on December 21. At noon on June 21, at its maximum, the sun is 72° above the horizon. PVWatts.com and BeOpt both do the tricky math to determine the ultimate effect of roof angle and orientation, taking into account the average insolation at the site.
The original layout for the house favored the east, which minimized the amount of shade on the garage panels but slightly reduced the total daily output of the panels. By turning the house closer to true south, which Mike Guertin did to maintain a comfortable distance to the setback lines, a few of the garage panels are placed in shade until midday, limiting their output. The new, better orientation keeps the total output almost identical to the original layout, though.
As a rule, you can turn a solar array about 15° from true south without taking a major hit to wattage output, and even 30° will still result in decent output.
Adjusting the pitch of the roof similarly has little impact. At 6-in-12 (the lowest pitch I would consider) and 12-in-12 (the steepest roof commonly used) for a house facing true south, the energy gained is identical: 13.4kwh/yr. At the 10-in-12 roof pitch we went with, the output is slightly higher: 13.5kwh/yr. for a south-facing roof, or 12.6kwh/yr. for a southeast-facing roof.
Some designers adjust the panels to favor the winter sun, under the theory that homes in a heating climate need more energy then, and snow and clouds will limit the panel's power generation to some degree.
To reach our net-zero-energy target, we had to make sure the house would, on average, use less than the total annual panel output each year. The house, as modeled in BeOpt, should use about 12,000kwh of energy each year. The annual output of the 40-panel PV array with its 260w panels (according to both BeOpt and PVWatts.com), is almost 14,000kwh/yr. of energy at that location. I wanted a large margin of error if we were going to claim net zero, and 2000kwh/yr. is enough to make up for the limitations of BeOpt and the fact that we did not know what we would have for equipment at that point.
With the goal met, we could fine-tune the variables. What if we added another 2 in. of continuous exterior insulation? Undoubtedly it would save energy. The model predicted, however, that a single PV panel would cover the energy penalty at a much lower cost. Same with the windows: triple glazing would reduce or eliminate condensation, save energy, and improve comfort, with a higher interior mean radiant-surface temperature. But the upcharge on this project made that choice prohibitive.
A couple of notes:
The Department of Energy prefers the term zero energy to net zero or net zero energy, but like most people I talk to in the field, I prefer the tried-and-true net zero energy to denote a grid-tied project where you are not really using your own energy but are just returning to the grid the same (or more) energy than you used, averaged over the course of a year. The term zero-energy home, in my opinion, should be reserved for homes that are off-grid and truly energy independent, which requires much stricter attention to daily and seasonal energy needs.
The DOE would also prefer that we measure energy use not by what is created or used on-site (site energy) but in terms of what it takes to generate that energy (source energy). Source energy averages about three times site energy, but it varies a lot and seems to only confuse those who are not hard-core energy nerds. Like most practitioners, I continue to use site energy in discussions.