Interior Doors
These two-panel doors are in keeping with clean lines of the interior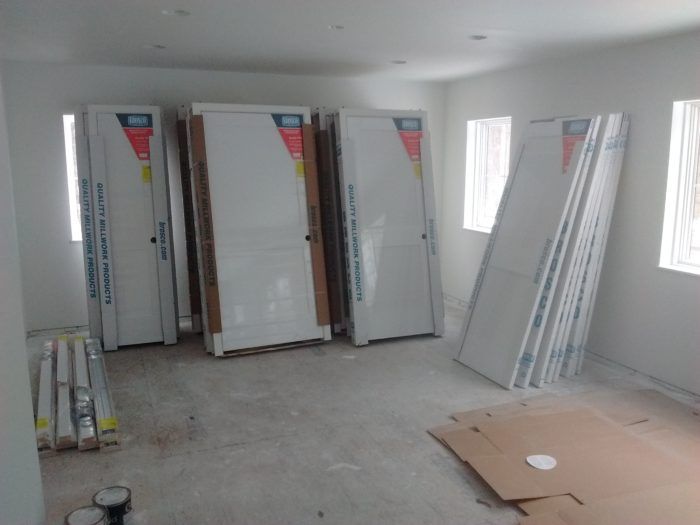 I hunted around for interior doors that would complement the simple, clean lines of the interior without breaking the budget and found them at a regional millwork distributor. The 2-panel solid primed MDF doors kept the square sticking look of the kitchen and vanity cabinets and were priced right at under $200 prehung with split jambs, brushed nickel hinges, and applied flat mitered casing.
We sized the interior doors as wide as possible for wheelchair access. Most doors are 3 ft. wide with just a few passage doors into bedrooms two and three sized at 2 ft.-8 in.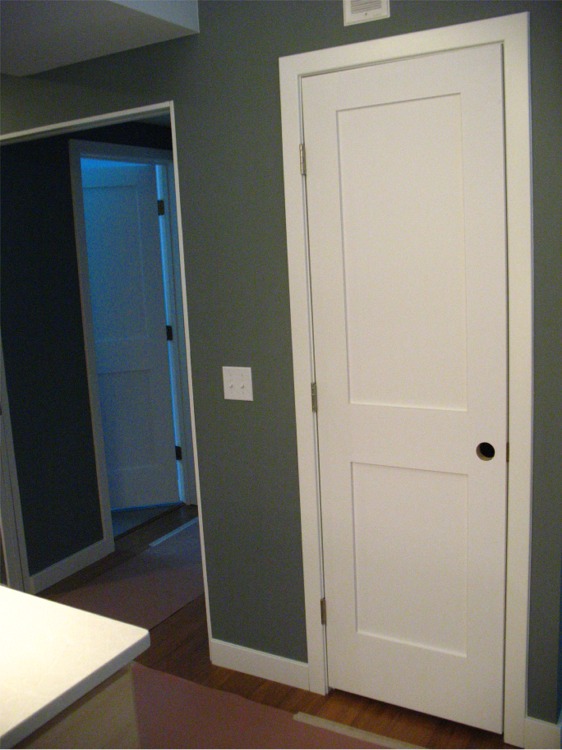 I opted for bypass doors for the 5 ft. and 6 ft. wide closets rather than bifold. While bifold doors provide full access to the entire closet at once I've found they go out of whack with any heavy handling, and not a good choice for a rental house with children. Bypass doors seem to take more abuse but of course only permit access to half the closet space at a time.
The door delivery nearly filled the living room with 24 panels and doors in total.
I opted for split jambs rather than solid rabbeted jambs. Since we installed 5/8 in. thick sound-control drywall on a lot of the walls where doors are hung the extra thickness would have exceeded the solid jamb depth. The split jambs adjust to a range of wall thickness and even work where the thickness at the head is different than the thickness at the floor. We installed three-point shim spacers behind the hinges and at three locations on the strike jamb side. We install long screws to tie the hinges to the jack stud so we aren't relying on the nails to hold the jamb straight.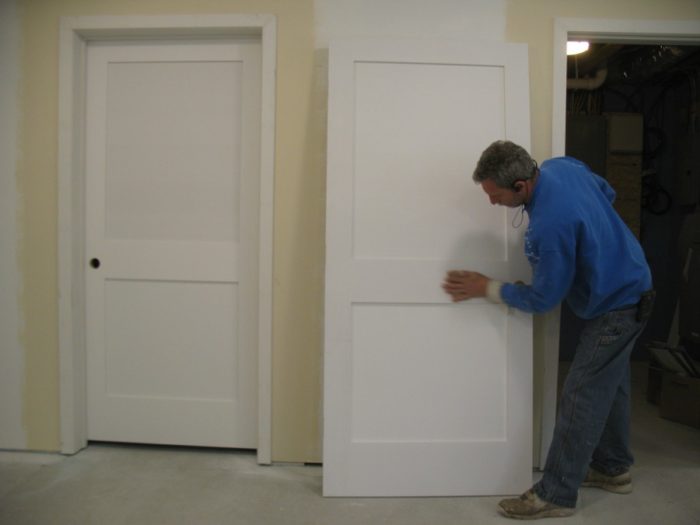 Bruce installed the eight hinged doors and two bypass doors on the second floor in less than a day. I think I spent more time puttying the nail holes and caulking the casings to the walls.