NESEA FHB House ProTour
Over 80 people attended the NESEA FHB House Pro Tour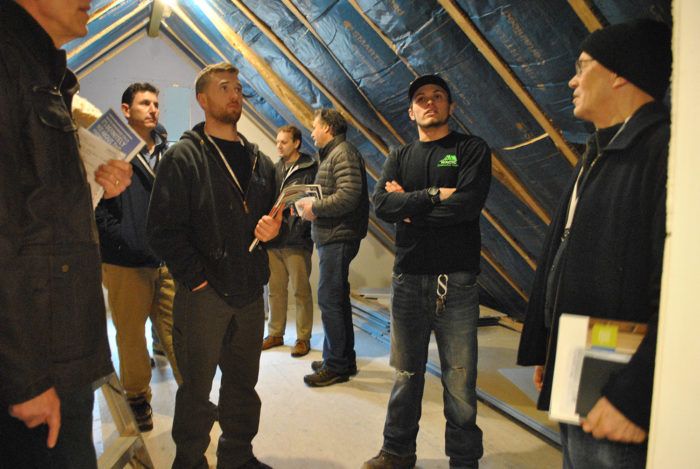 NESEA (the NorthEast Sustainable Energy Association) hosted a Pro Tour of the FHB House on March 31. The FHB House was the first of over a dozen half-day Pro Tours NESEA has on their 2017 schedule.  
The event started at an off-site meeting room where the 80 to 90 attendees networked, visited vendor exhibits and listened to FHB House designer Mike Maines and me discuss the design and construction details that went into the house from excavation, foundation and framing through insulation, air sealing and mechanicals.
At the house the attendees were broken into 3 groups and assigned to small discussions and Q&A on each floor level — Basement, First, and Second.
Fine Homebuilding editor Justin Fink led the basement tours addressing the Amvic ICF foundation, wall framing, and insulation and floor framing with TJI Flak Jacket coated joists as well as the Zehnder ERV and Mitsubishi H/AC system.
Mike Maines and I led the first floor tours. Mike got deeper into the design considerations like site planning and interior space layout. And we answered lots of questions.
Fine Homebuilding contributing editor and FHB House sponsorship coordinator Sean Groom staffed the second floor, where he discussed sound control, the garage attic / bonus room, bathroom fixtures and the Mitsubishi ducted system.
The three groups switched floors every 30 minutes. When the site tour was done, we jumped back on buses and headed back to the meeting space, where we concluded with about 45 minutes of questions.
Click here for more photos of this event and a podcast conversation with FHB House designer Mike Maines.